Leonardo Helicopters is hopeful that a resurgence of interest in the AW159 Wildcat following the restart of production last year could see the military rotorcraft's backlog extend into double digits over the next 12 months.
Despite the company's hopes for the medium-class helicopter, orders beyond the 62 built for the UK have been thin on the ground.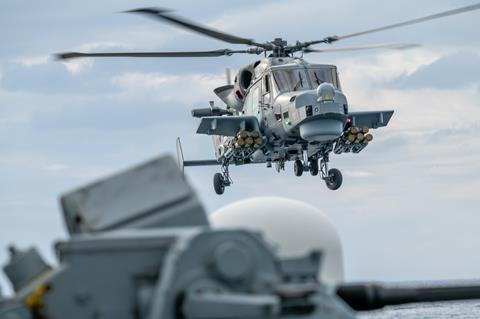 Previously, the only export deals for the Wildcat were from the Philippine (2) and South Korean (8) navies, leading to a production gap. However, a three-unit order last year from an undisclosed North African customer has enabled reactivation of the Yeovil, UK final assembly line.
And Adam Clarke, managing director Leonardo Helicopters UK, says additional "opportunities are in negotiation".
If these are successfully concluded, the volumes under discussion would lead to a "double-digit backlog" for the Wildcat, said Clarke, speaking at an event in Yeovil on 22 August.
Clive Higgins, chief executive of Leonardo UK, adds: "We are having active conversations with a number of potential users. Over the next six to 12 months we'd like to start seeing some of that coming through."
Leonardo's optimistic forecast for the AW159 – albeit a recurring but unrealised theme throughout the programme's history – also extends to Yeovil's other current product, the AW101.
"Both product lines are in really good health," says Clarke, who forecasts a "very busy outlook".
He sees up to five "really strong opportunities" for the AW101 in different configurations.
"We have a number of opportunities over the next two to three years. It could give us a great order backlog moving forward."
Yeovil is currently building new AW101s for the Polish navy – the first of four units was recently handed over – plus additional examples for other undisclosed customers.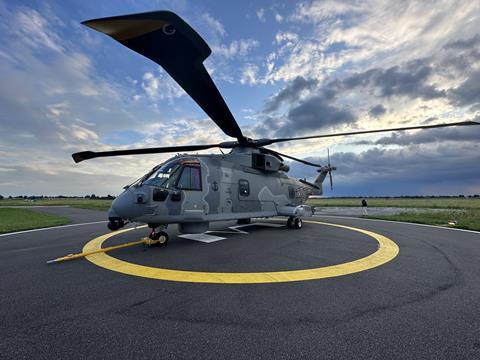 Warsaw has also begun negotiations for the supply of another 22 AW101s, to be operated in support of the Polish Land Forces.
Given the size of the order, Poland is likely to require an element of industrial offset as part of the deal.
However, Clarke thinks the impact on Yeovil will be minimal. "Whatever route [Poland] may go down there will be a significant amount of work here regardless.
"To manufacture an AW101 is a very complex and difficult thing – it's a cutting-edge and world-leading airframe, therefore the work that will be [in Yeovil] will be significant," he says.
In addition to orders for new-build examples, the UK plant is expected to be bolstered by upgrade work.
Canada has already signed off on the mid-life upgrade of its CH-149 Cormorant fleet – including three new airframes – and Italy is looking to follow suit on its navy's 22-strong AW101 fleet.
That would see donor parts from the existing fleet incorporated into a new airframe to "make a new 600-series aircraft", says Higgins.
In addition, the UK has begun initial analysis of a life-extension programme that would see the Royal Navy's Merlin HM2 and HC4/4A helicopters operated until the early 2040s.
Leonardo Helicopters and Lockheed Martin were commissioned to perform those studies through contracts issued earlier this year.
Clarke sees the AW101's current popularity stemming from its success in Norway, where the last of 16 helicopters under the country's NAWSARH search and rescue contract was recently handed over.
"There is no better advert for your product when it is excelling in use," he says.

Dominic Perry is deputy editor of Flight International but also contributes extensively to flightglobal.com. Although specialising in the coverage of the helicopter industry, he has written on most topics in aerospace – be they commercial, defence or business aviation. In addition, there has been an increasing focus on the decarbonisation of the industry and zero-emission flight initiatives.
View full Profile