Leonardo Helicopters and Kopter are already contemplating the development of a hybrid-electric rotorcraft demonstrator even as they work to bring the newly rebranded AW09 to market.
Swiss firm Kopter was bought by the Italian aerospace giant a year ago and the pair on 21 April announced the change from the previous SH09 designation, which they see as an important integration step.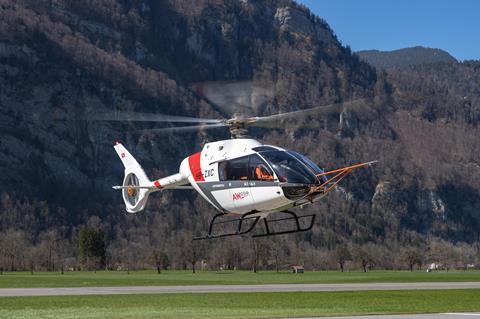 While test activities continue on the 2.8t AW09 in order to achieve service entry by 2022 or early 2023, Leonardo Helicopters is keen to bring new technologies to the platform or to other products in its range.
Matteo Ragazzi, Leonardo Helicopters chief technology officer, said during a 21 April media briefing that as the AW09 closes on certification there will be an "overlapping of activities" to ensure that there is "a demonstrator out there shortly after".
This would allow it to "refine the final product for the second part of the decade".
While Ragazzi says it is too early to say what technologies it would look to implement on the helicopter, he identifies hybridisation as one avenue of interest.
That might start with simple electrification – what he describes as having "one and a half engines" – but using an architecture that could also in future "translate into other variations including fuel cells".
As regulations governing future propulsion systems are still in development, any demonstrator would allow Leonardo Helicopters to "support the evaluation process and show what is the art of the possible today", says Ragazzi.
The AW09 is seen as the "first platform" of a family of "new light aircraft that will have conventional [helicopter] architecture but not conventional propulsion", he adds.
Kopter has previously touted the design of its main gearbox as being uniquely suited to hybridisation and has filed patents outlining possible approaches.
Michele Riccobono, Kopter chief technology officer, says it has not settled on any one direction, but says the patents are "going to be the foundation of this further evolution".
Although Kopter could build a new helicopter to serve as the demonstrator, Ragazzi says the company would prefer to direct its resources to validating new technology, potentially opening the door for re-use of an existing prototype.
He says it does not want to "waste energy" to "reinvent the wheel" and may instead adapt one of the pre-serial (PS) AW09s which are due to perform certification flights.
Aircraft PS4 is due to fly sometime between September and November this year, with PS5 following in 2022.
Previous test flights have used the company's P3 prototype, which has now accumulated 40h with its updated configuration, a change that was implemented at the turn of year.
Leonardo Helicopters says the revised AW09 designation was selected to show the helicopter had been brought within its product family while also retaining Kopter's "strong and original history".