Leonardo Helicopters could eventually stop production of the AW149 super-medium-twin in Italy if it secures an order from the UK on top of a recent commitment from Poland.
At present the manufacturer builds the AW149, and the civil AW189 variant, at its plant in Vergiate in northern Italy. That will soon be joined by an additional assembly line at Leonardo's Polish subsidiary PZL Swidnik following Warsaw's confirmation of a 32-unit order on 1 July.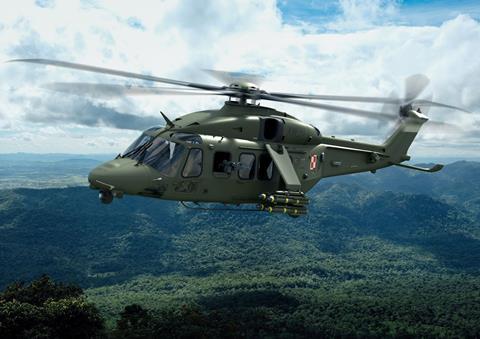 But the airframer has also promised to locate AW149 production at its Yeovil site in southwest England if it is selected for the UK's New Medium Helicopter requirement. Aircraft built at the plant would be for both the domestic and export markets, Leonardo says.
Faced with this potential industrial overcapacity, Stefano Villanti, senior vice-president of sales, says Leonardo "is not sure if we will continue to produce the AW149 in Italy", and notes that it has "a certain level of flexibility" within the business.
To some extent, any decision will be shaped by a follow-on order from Warsaw and the exact nature of the Polish content on its aircraft; Villanti says only that "there will be a good level of industrialisation in Poland".
He maintains that overall this "will be similar" to that offered to the UK, albeit both "depend on the requirements of the [defence ministries]".
But even if it stops building AW149s in Vergiate, Leonardo will likely retain an AW189 assembly line at the plant – its largest production facility – due to civil customers typically buying across its product range.
Yeovil too is likely to maintain production of the three-engined AW101 in the future.
"The most likely industrial base for the AW101 is Yeovil," says Villanti, noting the greater potential to increase aircraft and manufacturing capability – and reduce costs – at the type's current home.
Presently the Yeovil plant is assembling AW101s for Norway and Poland as it works through the remaining helicopters from their respective 16- and four-unit orders.
Both those customers also hold options for additional AW101s – six and four, respectively – but Villanti is confident the type can secure additional sales, notably from operators seeking to move away from legacy Russian helicopters on the back of the Ukraine war.
"I think the AW101 might surprise, particularly at the large end of the spectrum. It has got a good chance in many opportunities of ageing fleets."
Leonardo is also still working to finalise a contract with Canada covering the upgrade of its AW101s – locally designated as the CH-149 Cormorant; that agreement is "moving forward", says Villanti.
Meanwhile, construction of a new assembly line is under way in Ain Arnat, Algeria. No details of the rotorcraft to be built there have been released, with Leonardo previously indicating only that it would assemble three light and medium helicopter types.
Algiers has a fleet of Leonardo helicopters, including AW119 light-singles, AW139 intermediate-twins and Super Lynx, plus a substantial inventory of Russian types, many of which are due for replacement.
In addition to servicing the domestic market, the Algerian plant could also act as a manufacturing hub for North Africa.

Dominic Perry is deputy editor of Flight International but also contributes extensively to flightglobal.com. Although specialising in the coverage of the helicopter industry, he has written on most topics in aerospace – be they commercial, defence or business aviation. In addition, there has been an increasing focus on the decarbonisation of the industry and zero-emission flight initiatives.
View full Profile