Leonardo Helicopters has taken a swipe at what it dismisses as the "pop-up assembly lines" proposed by rivals for the UK's forthcoming New Medium Helicopter (NMH) contest.
Highlighting the "end-to-end" helicopter capability offered by its existing Yeovil plant in Somerset, southwest England, the Anglo-Italian airframer says no other manufacturer will be able to quickly replicate its expertise.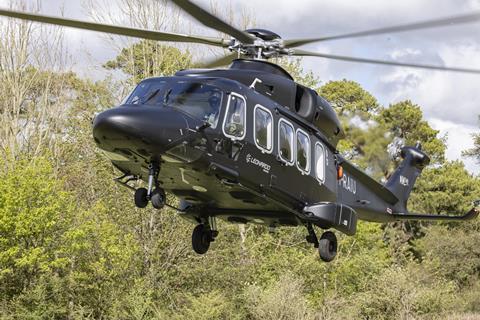 "We are not interested in a pop-up assembly line to deliver 36-44 aircraft to the MoD," says Mike Morrisroe, head of UK campaigns.
Leonardo Helicopters is proposing the AW149 for the NMH requirement, which the company would build in Yeovil should the super-medium-twin emerge victorious.
The AW149 faces competition from the Airbus Helicopters H175M, which would be assembled at a new line in Broughton, North Wales, and the Sikorsky S-70M, which, although Polish-built, would be completed in-country. A fourth company is proposing upgraded ex-US Army Black Hawks, with the modernisation work to be carried out at Teesside airport.
Both Leonardo Helicopters and Airbus Helicopters have promised to also target the export market from the UK should their rotorcraft be chosen for NMH.
But Morrisroe argues that even if a 'pop-up' line was the cheaper solution, it would lack the necessary engineering skills to support upgrades and modifications for the UK.
"We would argue that you need an end-to-end capability – it's not just about assembling something," he says. That requires "deep engineering knowledge" and "you just simply cannot establish that kind of capability overnight."
Mike Overd, chief engineer for UK military aircraft, argues that non-domestic manufacturers might not give the same priority to urgent operational requirements from the UK MoD.
He points to Leonardo Helicopters' development of floatation devices for the British Army's Boeing AH-64D Apaches under an urgent operational requirement to allow deployment from ships in support of missions in Iraq an Libya.
During that process Leonardo Helicopters received "very little support from Boeing", he says, with the US prime unwilling to release its 3D design files. "We are not necessarily at the forefront of foreign OEMs' minds," says Overd.
Morrisroe also underscores Leonardo Helicopters' export ambitions for Yeovil-built AW149s in the event that it wins the NMH contract.
"It can't just be about a transient capability and then everything gets stood down. We recognise that our offer is not just about building 36-44 aircraft for the MoD – it's about that customer capability and about exports from Yeovil.
"Our CEO has made the commitment that those exports in future will be from the UK," he says. "We will be held accountable to deliver against that promise."
A similar promise was made when the related AW189 was selected by Bristow Helicopters for the UK's current search and rescue contract, but aside from two helicopters for the Falkland Islands, no rotorcraft for export were assembled in Yeovil.
At present, AW149s are built at the manufacturer's final assembly line in Vergiate, Italy.
Morrisroe says the company forecasts a potential market for 500 medium-class military helicopters in the period to 2040, of which it could take a 20-25% share.
The NMH programme is designed to replace the Royal Air Force's fleet of Puma HC2 helicopters, plus three other legacy types. First deliveries are due by the middle of the decade.
Requirements for the contest are due to be released in the coming months.