Leonardo Helicopters' UK operation has begun initial design work on a clean-sheet 3t-class unmanned rotorcraft which could be flying by 2024.
The manufacturer is looking to build on work carried out for the UK Ministry of Defence (MoD) last decade under phases one and two of the Rotary Wing Unmanned Air System (RWUAS) Capability Concept Demonstrator programme.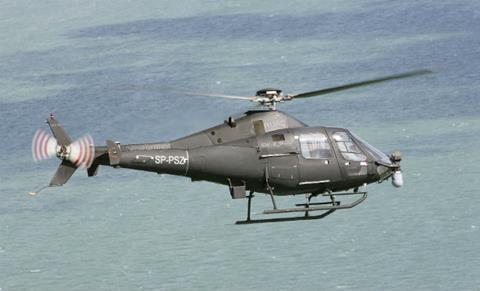 Centred on maritime operations, the previous efforts used an optionally piloted SW-4 Solo helicopter – based on PZL Swidnik's manned SW-4.
Sarah Cook, vice-president of operations at Leonardo Helicopters UK, speaking to media on 28 May at the airframer's Yeovil, UK facility, said that the earlier work has enabled the company to narrow its options for the new helicopter.
"We have now got to a point where we have said we think we have a design solution from an aircraft perspective that we would like to move forward with.
"It gives us a very flexible solution with a modular design."
Cook says as currently envisaged, the demonstrator will look like "a conventional aircraft", but will not face the constraints inherent in converting a manned platform. Maximum take-off weight will be in the 2.8-3t range, with a 10-12h endurance. First flight is likely to be in the 2024-2025 timeframe.
At present, the work is self-funded, but the company is hopeful that the MoD will also back the project.
"It is something that we are very keen to follow up on so we are continuing to invest our own money."
Although the previous phases of the MoD's RWUAS programme focused on the maritime 'find and fix' role "we can see boader potential for that aircraft", she says, citing missions such as last-mile logistics.
Cook says that the demonstrator should not be seen as the final design for such an aircraft. In addition to any possible changes to the configuration, Leonardo Helicopters is continuing to investigate the potential for hybrid or electric propulsion on the aircraft. It has applied for funding from the UK's Aerospace Technology Institute for related projects, says Cook.