Leonardo Helicopters has further boosted the performance of the AW169, unveiling a higher gross weight kit for the skid-equipped variant of the medium-twin that lifts its maximum take-off weight (MTOW) to 5.1t.
In addition, the rotorcraft manufacturer has also launched a related 11-seat configuration designed for the offshore oil and gas industry.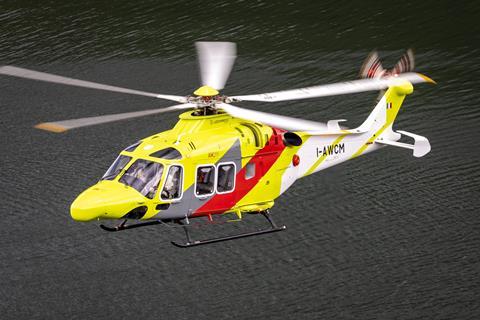 Originally developed for the military M model, the increased gross weight (IGW) kit will be available as a retrofit option for existing civil or parapublic operators of skid-equipped AW169s.
A jump of 300kg (660lb) over the current 4.8t maximum take-off weight limit – itself an increase on the 4.6t baseline – the IGW kit allows for the embarkation of another three passengers or sufficient fuel for an additional 1h of flight time.
That higher potential passenger count enabled by the IGW kit has also allowed the airframer to introduce an 11-seater option designed for offshore transport – a three-seat increase over the current oil and gas cabin layout.
Fully compliant with standards laid down by the oil and gas industry, the 11-seat version adds a new modular fuel tank system and two extra Type IV emergency exits in the cabin.
Leonardo Helicopters says the modifications will allow a radius of action of up to 75nm (140km) with 11 passengers, allowing the AW169 to offer the capabilities of a larger platform at a lower operating cost.
Certification of the IGW increase is expected in 2024, while approval of the 11-seater configuration with the new modular fuel tank is planned for 2026. Certification of the skid undercarriage was achieved last year.

Dominic Perry is deputy editor of Flight International but also contributes extensively to flightglobal.com. Although specialising in the coverage of the helicopter industry, he has written on most topics in aerospace – be they commercial, defence or business aviation. In addition, there has been an increasing focus on the decarbonisation of the industry and zero-emission flight initiatives.
View full Profile