Leonardo Helicopters has revived the Agusta name, adopting the legacy brand for its operations in the VIP and corporate segment.
The Italian half of the company's helicopter heritage, Agusta had gradually faded from prominence after reorganisations related to the rebranding to Leonardo took effect. The only vestiges of the name are in the AW designations of its helicopters.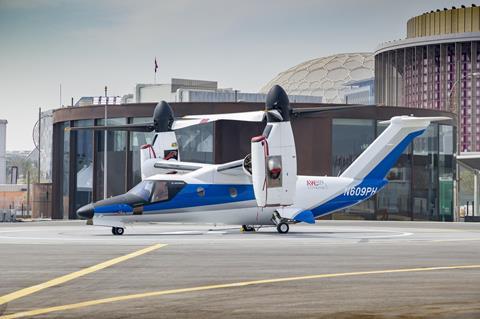 But the company believes that the brand neatly encapsulates the characteristics of its VIP business.
"Agusta is a unique combination of best-in-class performance, comfort and refined Italian style," it says.
It will be applied to all operations in the VIP helicopter segment, including its newly launched modular rotorcraft terminal, completions activity and mobility solutions such as its AW609 tiltrotor.
Gian Piero Cutillo, managing director of Leonardo Helicopters, says: "With Agusta we give our VIP operators a strong brand that they can easily recognise and identify with, a sign that embodies their desire for excellence and quality with a personal touch and distinction, which includes their flight experience."
Leonardo announced the branding move at the opening of its new rotorcraft terminal – dubbed Casa Agusta - operated by Falcon Aviation Services at the Dubai Expo 2020 site.
An AW609 test aircraft and a full-scale VIP/corporate cabin mock-up of the tiltrotor will be on static display close to Casa Agusta for a limited period, although the aircraft will depart prior to the Dubai air show in November.
Leonardo says the appearance in the Middle East marks the "global commercial launch" of the AW609 as it closes on civil certification, a milestone likely to be achieved next year.