Leonardo Helicopters will over the next 12 months work with the UK Ministry of Defence (MoD) to develop a roadmap for the teaming of manned and unmanned aircraft, after last month successfully conducting a trial of the concept.
During the demonstration, which concluded on 17 September, an unmanned air vehicle (UAV) and its electro-optical/infrared sensor payload were controlled by the crew of a British Army AW159 Wildcat AH1 helicopter.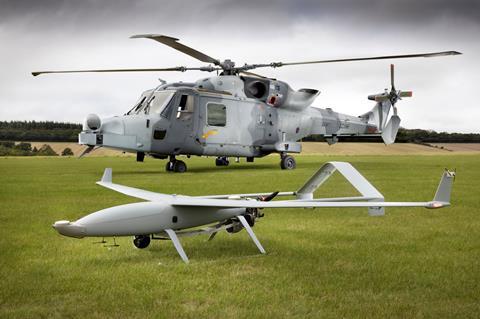 While manned-unmanned teaming is not itself new, the trial sought to prove that a high degree of control could be achieved without significantly increasing the crew's workload, says Alexander Tucker, defence adviser at Leonardo Helicopters, speaking exclusively to FlightGlobal.
He says the company has been contracted by the MoD to perform an "advanced teaming study", which will "help them work out their next steps". This will be carried out "over the next year", he says.
Conducted across two days on the MoD's Salisbury Plain training area in Wiltshire, the September effort integrated a Fregata fixed-wing UAV, supplied by Callen-Lenz Associates, and its payload, with the Wildcat.
This achieved level of interoperability (LoI) 4, says Tucker, which means that the helicopter's crew could control the flightpath of the UAV and direct its camera.
Run as part of the Army Warfighting Experiment 19, organised by the Defence Science and Technology Laboratory, the evaluation saw the helicopter's crew deploy the UAV to locate troops and armoured vehicles in several areas of interest, which included open ground, woodland and an urban environment.
In each case, the UAV "went, looked and found the enemy", says Tucker; crucially this was achieved without overburdening the pilots.
"The results were very, very encouraging. We reached LoI 4, which previously had been impossible or very difficult," he says.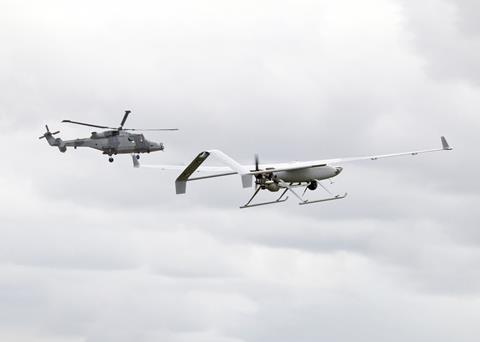 Only minimal modification was required to the Wildcat to enable the manned-unmanned teaming: an antenna was added to the aircraft's belly and a gateway processor from Callen-Lenz was integrated with its mission system and tactical processor. A commercial off-the-shelf datalink was also incorporated into the UAV.
While the location of the antenna for the trials was driven largely by convenience, it meant that the helicopter had to operate above the UAV, at around 2,000ft.
Future simulator work would therefore be required to assess the "cognitive burden during low-level flight", says Tucker.
But he points out that a production-ready system would likely see antennae mounted both above and below the fuselage, plus the addition of a military-grade secure datalink.
More crucially, perhaps, the MoD must choose which UAVs to use alongside the Wildcat in future.
"It is for the MoD to decide what they want us to team with. We demonstrated we could do it and we demonstrated that it could be integrated and that it makes the cognitive burden manageable for the aircrew," says Tucker.