Lockheed Martin aims to develop indigenous sustainment and support capabilities for Australia's Sikorsky MH-60R Seahawks and the army's possible fleet of UH-60M Black Hawks.
The company has put out a call for suppliers in Australia that can help with components and aerostructures, repair work, logistics, and engineering management tools.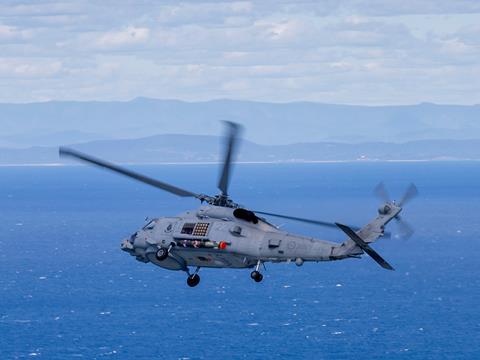 "In partnership with [the Department of Defence] and defence industry, Lockheed Martin and our subsidiary, Sikorsky Australia, have been sustaining rotary-wing assets with excellence for the Commonwealth of Australia for over 30 years," says Warren McDonald, chief executive of Lockheed Martin Australia.
"We are committed to working with like-minded Australian industry partners to grow our existing rotary-wing sovereign sustainment supply chain to reinforce Australia's industrial self-reliance and ensure cost-effective solutions for our [Department of Defence]."
McDonald adds that Lockheed also hopes to help Australian firms access global supply chains.
To facilitate its outreach effort, Lockheed Martin Australia has created what it calls the Australian Industry Capability Network Gateway, which is open for expressions of interest until 30 June 2023.
The Royal Australian Navy has 23 MH-60Rs and will receive 12 additional examples from mid-2025 to mid-2026.
In addition, the US government has cleared the potential sale of 40 UH-60Ms to Australia for up to $1.95 billion.
In December 2021, Canberra said that it intended to buy the UH-60Ms to replace legacy S-70 Black Hawks as well as its NH Industries NH90s (locally designated MRH90 Taipan), which have been plagued with reliability issues.
Separately, Lockheed says that its Missiles and Fire Control unit has received a $122 million contract for nine Gen III Target Acquisition Designation Sight/Pilot Night Vision Systems (TADS/PNVS), which will equip the army's future fleet of 29 Boeing AH-64E Apache attack helicopters. Lockheed expects a subsequent buy of to cover the remaining 20 TADS/PNVS systems.
"The Gen III TADS/PNVS provides Apache aircrews with situational awareness and helps to save lives in challenging missions," says Tom Eldredge, Director of Rotary Wing Sensors at Lockheed.
According to the company, TADS/PNVS "provides pilots with long-range, precision engagement and pilotage capabilities for safe flight during day, night and adverse weather missions."