Lockheed Martin has secured a contract from the US Navy (USN) to produce eight MH-60R multi-mission helicopters for the Spanish navy.
The helicopters are being acquired through the US government's Foreign Military Sales mechanism, following a Defense Security Cooperation Agency (DSCA) notification of the potential sale in March 2022.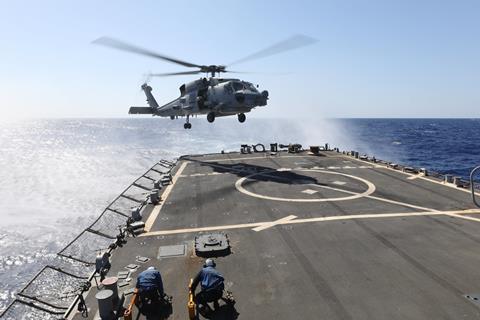 "The operational effectiveness of the MH-60R multi-mission helicopter is a direct result of continued investment by the US Navy, Sikorsky and our supplier partners in air vehicles, mission systems and sensors," says Hamid Salim, vice-president of Sikorsky Maritime Systems.The helicopter manufacturer is a unit of Lockheed.
Lockheed adds that there are 330 MH-60Rs in service globally operated by Australia, Denmark, India, Saudi Arabia, and the USN.
Lockheed did not provide details of the delivery timeline for the eight rotorcraft. The DSCA case valued the deal at $950 million. It included Lockheed AGM-114R Hellfire missiles, as well as 2.5in rockets and BAE Systems Advanced Precision Kill Weapon System guidance kits.
Moreover, four examples will receive sonobuoys and sonar equipment for use in the anti-submarine warfare role.
"Spain's confidence in the MH-60R is a testament to our shared commitment to national security and the security of our allied nations," says USN Captain William Hargreaves, H-60 multi-mission helicopter program manager.
"We are committed to supporting Spain throughout this process, from contract award to delivery, further solidifying our global partnership. The increased capabilities and new technologies of the MH-60R Seahawk as it transitions from the SH-60B aircraft will allow the Spanish navy to remain a ready, capable and equipped fleet."
Lockheed adds that Spain retired the last of its 18 1960s-vintage Sikorsky SH-3 Sea Kings in 2022. In October 2022 Madrid authorised the sale of six SH-3Hs to Peru for the token amount of €600 ($632).
Cirium fleets data indicates that the Spanish navy's helicopter fleet includes 12 SH-60Bs with an average age of 27.7 years, and six SH-60Fs with an average age of 32.6 years.
Other helicopter assets include seven Leonardo-produced AB212s – a licence-built version of the Bell 212 – and six MD Helicopters MD500s that are used for training.