Lockheed Martin chief financial officer Jay Malave says the defence manufacturer sees potential areas of growth for its business in coming years.
On a Goldman Sachs webinar, Malave said his company is eyeing increased sales of precision weapons, higher levels of defence spending by European countries, and a forthcoming decision on the US Army's first new rotary aircraft programme in decades as positive signs.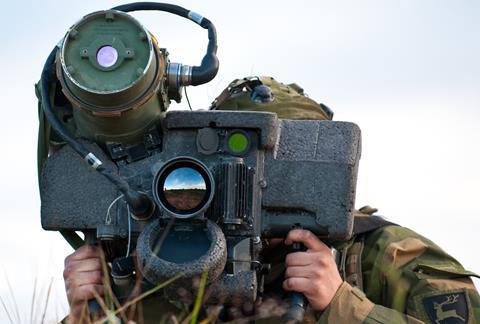 Lockheed, in partnership with Raytheon, produces the Javelin guided anti-tank missile that has proven highly effective in Ukraine against invading Russian forces.
According to the Biden administration, the USA has already sent 5,500 Javelins to Ukraine. President Joe Biden recently toured the Alabama factory where Javelins are produced. Malave says Lockheed is exploring way to double annual Javelin production from 2,000 units to 4,000.
Russia's war in Ukraine has produced a wave of defence spending increases across Europe. Wary nations in Eastern and Northern Europe want to beef up their military forces as a deterrent against Russian aggression, while several former Soviet satellites are seeking new equipment after supplying their own Soviet-era gear to Ukraine.
Foreign sales make up roughly 28% of Lockheed's total annual revenue, with Europe specifically accounting for 10% of total sales. Malave cautions that it is not yet clear how increased defence spending in Europe will play out for Lockheed, but says the signs are "trending positively".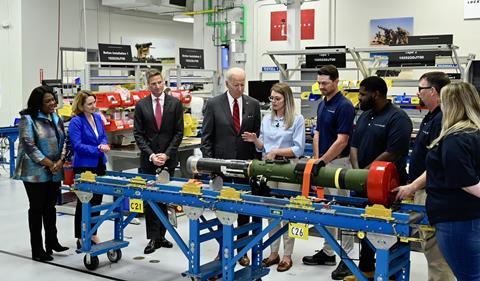 The CFO also says that Lockheed expects the US Army to make a decision in its Future Long Range Assault Aircraft (FLRAA) competition in September of this year.
Lockheed subsidiary Sikorsky is competing against Bell for the FLRAA contract, the first in the army's Future Vertial Lift programme, which is valued at an estimated $40 billion.
Headwinds for the company include the winding down of UH-60 Black Hawk purchases by the US Army. Sikorsky has produced the Black Hawk for more than 40 years, with the 5,000th finished aircraft expected in the fourth quarter of this year.
The US fiscal year 2023 presidential budget request also included 23 fewer F-35 Lighting II fighters that previously expected.
However, Malave says that Lockheed believes there will be support in Congress for funding additional aircraft purchases beyond the presidential budget request, based on unfunded priorities lists submitted by the US military service chiefs.
Sikorsky chief Paul Lemmo recently told FlightGlobal that the helicopter maker believes foreign demand for the UH-60 will remain strong in the coming years, even as domestic sales wind down.
Lockheed posted a profit of $1.7 billion in the first quarter of 2022. During an April earnings call, executives said they expect an even rosier picture in the second half of the year, as pandemic-induced supply and labour constraints subside.