In the six months since Russia invaded Ukraine, the man charged with modernising the US Army's rotorcraft fleet has been watching developments in that country and has initial observations.
"Low and fast matter," says Major General Walter Rugen, director of the army's Future Vertical Lift (FVL) cross-functional team.
Rugen, who spoke on 24 August at the Center for Strategic and International Studies in Washington DC, cautions it is too early to draw conclusions from the still-ongoing Russo-Ukraine war.
But so far, he says, the conflict validates the US Army's focus on increasing the speed, range and low-altitude abilities of its next-generation aviation fleet.
"Our technology is really stressing how we do that safely," says Rugen, of the FVL efforts.
A Sikorsky UH-60 Black Hawk pilot himself, he caveats that the army does not want to that extra flight performance to increase the cognitive load on pilots. One of the programme's goals is to offload some of those tasks to the automated systems and sensors in FVL airframes.
"The cockpit can be worried about fighting," Rugen says, referring to pilots focusing on tasks like operating weapons and intelligence-gathering systems, and communicating with other troops, rather than flying the aircraft.
One tenet of modern warfare that has come into focus for Rugen, however, is the need for greater range.
"We want to be outside of any… weapons system's ability to engage us, whether that be in our assembly areas or in our refuelling areas, but also at the tactical edge," Rugen says.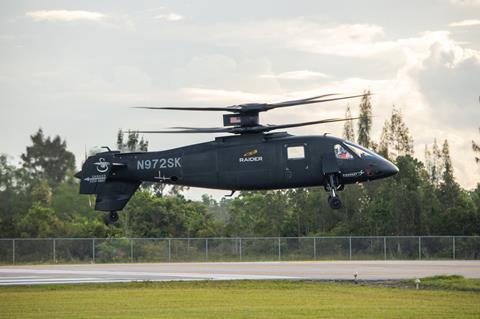 Being able to hit targets – through precision munitions or aircraft strikes – beyond an enemy's effective operating range is a concept military planners call "stand-off". Rugen cites the 2020 Nagorno-Karabakh War between Armenia and Azerbaijan, and the ongoing fighting in Ukraine, as examples where stand-off provided advantage.
"Those that didn't have it had much tougher days in the fight, and those that had that stand-off were decisive against long-range fires," Rugen notes.
That assessment backs up FVL's focus on securing greater range and speed for the army's newest rotorcraft, which are expected to operate for at least 50 years. By way of comparison, Sikorsky's Black Hawk, a mainstay of the army fleet, was designed in the 1960s and has been serving since the late 1970s.
Rugen says FVL's "number one priority" is finding a new scout helicopter to replace the Bell OH-58 Kiowa that was mothballed due to 2013 cuts to the defence budget.
The Kiowa's replacement, dubbed the Future Attack Reconnaissance Aircraft (FARA), will be small, heavily-armed and fast. The army wants its ultimate choice for FARA to be able to reach speeds of at least 204kt (378km/h).
Textron's Bell and Lockheed Martin's Sikorsky, the two finalists in the FARA competition, both say they are 90% complete with prototype demonstrator aircraft, which are set to make first flights in late 2023.
Sikorsky has put forward its RaiderX coaxial design, based on the company's X2 technology line, which it says will produce revolutionary speed and power.
Bell entered its 360 Invictus airframe, which uses a conventional helicopter layout. The head of Bell's FARA bid tells FlightGlobal the design will likely exceed speed requirements, while also delivering low sustainment costs.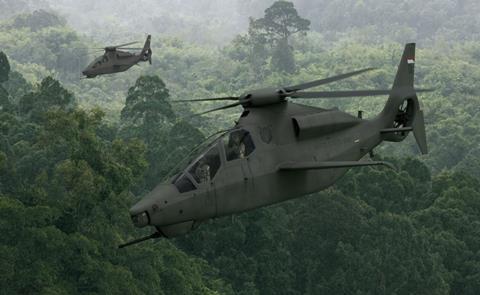 However, even before those designs go head-to-head, the army is expected to select its choice to replace the UH-60 utility lift helicopter.
Known as the Future Long-Range Assault Aircraft (FLRAA), that type is meant to ferry troops into battle after FARA flights have cleared a path. Given the need to safely deliver soldiers to distant objectives and return home, FLRAA has even greater speed and range requirements.
Competitors for FLRAA include a tiltrotor design from Bell and a joint bid from Sikorsky and Boeing based also on the former's coaxial X2 technology. The army is expected to announce the winner of that competition sometime this autumn.
Rugen equates changes coming to army aviation from FLRAA and FARA to the post-Vietnam War modernisation of the fleet that led to the introduction of the Black Hawk and the Boeing AH-64 Apache attack helicopter.
He notes that modernisation of the current fleet of army helicopters has essentially maximised the performance of those legacy airframes. Rugen says the FVL programme was born from concerns in Congress that the US vertical-lift industrial base would suffer, and expertise be lost, as upgrades to existing types concluded and work dried up.
After delivering FARA and FLRAA, Rugen says the FVL programme has another priority goal: developing a fleet of cheap, plentiful unmanned air vehicles and loitering drones. These would be able to flood a future battlefield and, as Rugen says, "present dilemmas to our enemies".