The long-delayed delivery of six MD Helicopters MD530Gs to Malaysia could take place before the end of the year, according to the head of Malaysia's defence forces.
The helicopters, which will serve with the country's army, are undergoing pre-delivery inspections, says general Affendi Buang, chief of the Southeast Asian nation's defence forces, in a report carried by state news agency Bernama.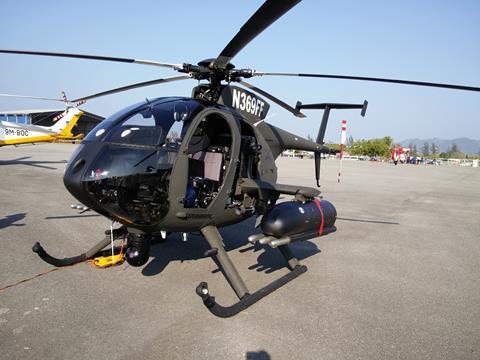 "Based on the procurement contract, all the helicopters are expected to be delivered to Malaysia at the end of the year," he is quoted as saying.
He adds that eight pilots and nine technicians underwent training with MD Helicopters in the USA from 24 April to 13 August.
In February 2016, Kuala Lumpur selected the MD530G for a light attack helicopter requirement. At the time, deliveries were planned for March 2017. The contract value given was MYR322 million ($77.4 million).
In December 2019, with no helicopters delivered, MD Helicopters told FlightGlobal that deliveries had been delayed at the behest of the Malaysian prime contractor, Destini Group. In 2017, Destini had acquired a 70% stake in Halaman Optima, the original prime.
MD Helicopters added that deliveries were to take place in the first quarter of 2020. The reason for the additional delay is not clear, but both Malaysia and the USA have been hard hit by the coronavirus pandemic.
First flown in 2013, the MD530G features a higher maximum take-off weight of 3.75t and a top speed of over 130kt (240km/h).