The Royal Malaysian Air Force (RMAF) has grounded 12 Sikorsky S-61A 'Nuri' transport helicopters, citing maintenance woes.
In a 7 January press briefing, RMAF chief general Ackbal Samad said the type is too costly to maintain, and it can take nine to 18 months to obtain spare parts, according to national news agency Bernama.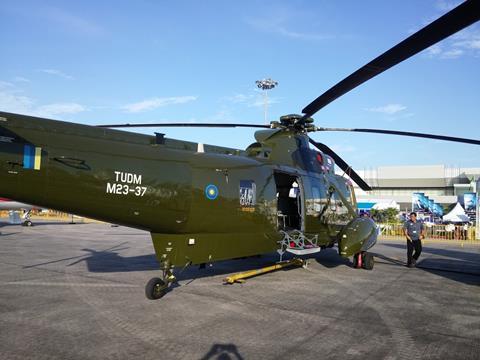 Samad added that the grounding will be indefinite.
FlightGlobal understands that the rotorcraft have in reality been grounded since August 2019.
Flight International's World Air Force's Directory shows that the RMAF has 23 S-61As and the army three, although earlier plans had called for the army to operate 12 examples.
Cirium fleets data show that the average age of fleet is about 45 years.
In an attempt to extend the type's longevity, one example was upgraded by local firm Airod, with an official handover taking place at the LIMA air show in Langkawi in March 2017.
The upgrades involved improvements to the rotorcraft's avionics and saw the type receive a glass cockpit. A moving map and digital flight displays were also added. This was to serve as a proof of concept for the rest of the fleet, but apparently Kuala Lumpur has not decided to pursue this path.
"RMAF has plans to procure new aircraft to replace Nuri, but it is still in the evaluation stage," says Samad.
Budgetary issues and politics have crippled Malaysian defence acquisition in recent years. Still, one of Kuala Lumpur's few successful acquisitions in the last decade was for 12 Airbus Helicopters H225Ms that serve with the RMAF – though the planned order had been for 28.