Malaysian helicopter operator Weststar Aviation has placed an order for five Leonardo AW139 intermediate twins in an offshore support configuration.
Manufacturer Leonardo did not provide a value for the order, or delivery dates. The signing took place at the Langkawi International Maritime and Aerospace (LIMA) exhibition.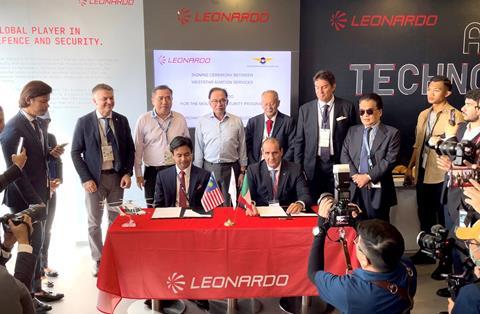 The contract signing follows the 22 May flight of a Weststar AW139 using sustainable aviation fuel (SAF), says Leonardo.
Powered by SAF produced by Malaysian national energy firm Petronas and Neste, the helicopter took off from Kuala Lumpur's Subang Airport and flew to the LIMA show. Leonardo claims that this is the first SAF helicopter flight in Malaysia.
"At Weststar, we are committed to driving sustainable aviation practices and reducing our carbon footprint," says Weststar Group chairman Syed Ibrahim.
"We are a step closer toward reducing the environmental impact of Malaysia's rotor wing sector with the successful demonstration flight of our AW139 fuelled with Sustainable Aviation Fuel."
In addition, Leonardo confirms that Weststar will lease the single AW609 being sent to the operator to assist with the type's service entry.
In March, Leonardo announced that Weststar will contribute its expertise to assist with the definition of missions and operational requirements for the AW609 in Southeast Asia. At the time of the announcement, it had yet to be determined whether Weststar would buy or lease the tiltrotor.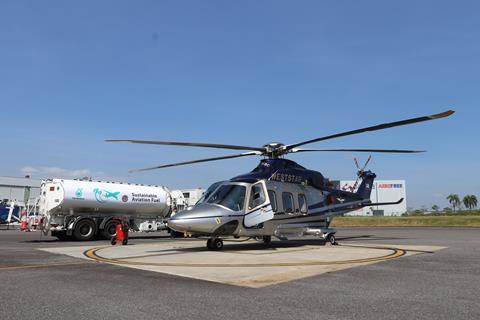 The formal contract for the AW609 deployment was signed at LIMA.
"This ground-breaking aircraft will revolutionise our operational capabilities, providing us with a versatile platform to fulfil our various missions," says Ibrahim.
"We are proud to be the pioneer in bringing the world's first multirole tiltrotor to South-East Asia, and we look forward to demonstrating its exceptional capabilities to our present and potential clients."
Cirium fleets data suggests that Weststar has 21 in-service helicopters, comprising 15 AW139s, one AW169, three AW189s, and Airbus Helicopters H145s.