Swiss entrepreneur and engineer Martin Stucki has made a surprise return to the helicopter industry five years after he was ousted from the business he started in order to develop what would eventually become the Kopter AW09 light-single.
Stucki is now seeking funding for a new helicopter programme with a revolutionary hybrid-electric powertrain that he hopes will be on the market within a decade.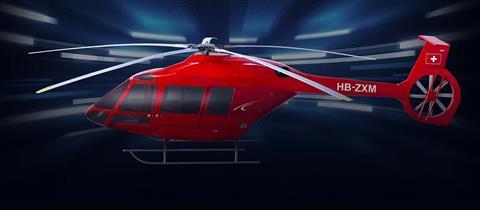 His design – currently called the M12 – will use a single 1,000hp (745kW) turbine engine to generate electricity to power the main and tail rotors; battery storage will provide a reserve in case of engine failure or a requirement for additional power.
Stucki – who was touting the new venture at the Heli-Expo show in Dallas – envisages the M12 as having a maximum take-off weight of around 3.5t with a payload of 1,200kg (2,640lb) at 14,700ft. In comparison, the AW09 weighs in at around 3t, with a 600kg payload at the same altitude.
He highlights the mechanical simplicity of the series hybrid design which eliminates the need for main and tail rotor gearboxes and associated drivetrain, delivering a weight-saving and safety benefit through greater redundancy.
"It is also ready for the future because if let's say fuel cells become available with lower weight you could remove or reduce the size of the engine," he says.
Like the AW09, the M12 features a five-bladed main rotor and shrouded tail rotor.
A twin-engined design is also planned as a later development, he says, in part to meet European regulations covering certain segments such as emergency medical services operations.
Provided funding can be secured, Stucki is confident that the first M12 prototype could be flying within three to four years, leading to certification after another four.
Experience gained on the AW09 programme – which started out as the Marenco Swisshelicopter SKYe SH09 – should ensure the M12 prototype is "more mature", he says.
Stucki is agnostic on the location for any potential production line, but he says the business will look for a partner in the USA that could build the aircraft, with flight testing also to take place in that country.
Marenco Swisshelicopter – a name that has again been adopted – was rebranded as Kopter after Stucki's departure in December 2016. Leonardo subsequently bought the manufacturer in April 2020 for $185 million from its owner Lynwood Investments – a business associated with Russian financier Alexander Mamut.
But his previous experience has not deterred Stucki from a second tilt at aircraft development. "I think the market still needs innovation," he says.
"I like the market, I like to fly and I like helicopters and they say whatever you do should be fun; designing the helicopter was really fun – the rest maybe less so."