A UK Royal Navy (RN) and industry team has completed a test campaign of Thales UK Martlet missile firings from the service's Leonardo Helicopters Wildcat HMA2 maritime rotorcraft.
Conducted between 27 April and 21 May using a test range off the West Wales coast, the activity "will enable this high-end capability to enter service with the Royal Navy later this year", says Leonardo.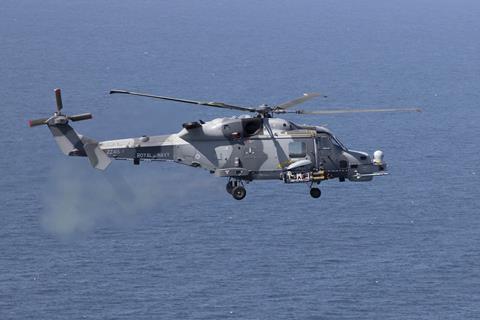 "The trials mark an important milestone in the testing of the new system, which will arm the Wildcat helicopters that deploy as part of [aircraft carrier] HMS Queen Elizabeth's maiden operational deployment next year," the RN says.
Weighing 13kg (29lb) and with a range of 3-5nm (6-9km), the laser-guided Martlet takes approximately 0.3s from launch to reach its top speed of Mach 1.5, the navy says.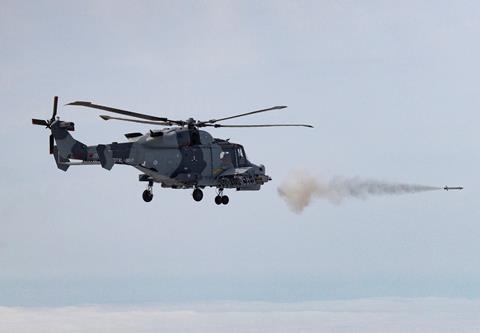 Once equipped with a Leonardo-developed weapon wing, the twin-engined Wildcat can carry up to four five-round Martlet launchers, for a maximum load of 20 missiles. Alternatively, the rotorcraft can carry 10 Martlets and a pair of MBDA Sea Venom anti-ship missiles. The UK Ministry of Defence selected the weapons in July 2014 to respectively meet the light and heavy segments of its Future Anti-Surface Guided Weapon requirement.
Leonardo says the trials proved that the Martlet's launchers and airborne laser guidance unit have been successfully integrated with the Wildcat's sensor, displays and avionics systems.
Commander Matt Boulind, Wildcat Maritime Force Commander, says the Martlet test success "underpins future Royal Navy offensive capability and the defence of the surface fleet".
Philip McBride, general manager of Integrated Airspace-protection Systems at Thales UK, describes the Wildcat/Martlet combination as offering "best-in-class offensive capability to protect the carrier strike group", and presenting "a significant deterrent to anyone wishing to interfere with UK interests".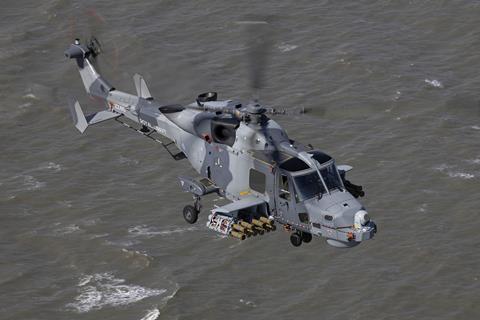 In addition to being able to engage maritime threats, Leonardo says the Martlet weapon could be employed "to engage air targets such as unmanned air vehicles, and other maritime helicopters".
The RN plans to conduct the first operational deployment before the end of 2021 with HMS Queen Elizabeth: its first of two new 65,000t aircraft carriers. The vessels will typically operate with an embarked air wing of short take-off and vertical landing Lockheed Martin F-35Bs and Leonardo AW101 Merlin HM2 anti-submarine/multi-mission helicopters, including examples equipped for airborne early warning duties.
Wildcats will provide fleet protection from Type 23 frigates and Type 45 destroyers also forming part of a carrier strike group.
The RN notes that the recent firing trials and their preparation were "conducted in line with current [UK] government social distancing rules due to the coronavirus, adding an unexpected hurdle".