Arizona-based MD Helicopters has secured an order for six new Cayuse Warrior Plus armed scout helicopters from an undisclosed country in the Middle East.
The order will also include glass cockpit upgrades to six Armed MD 530F rotorcraft. MD says it will begin delivering aircraft in 2024.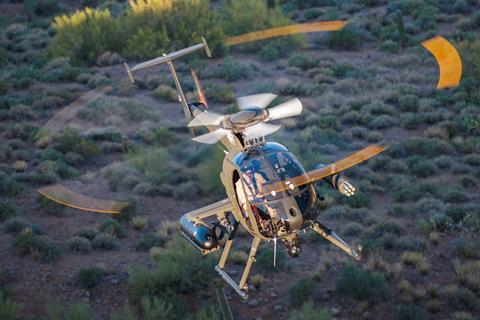 "The twelve aircraft will support counter-insurgency and counter-terrorism operations by providing area security, tactical reconnaissance, convoy escort and drug interdiction throughout the country," MD says of the unnamed buyer on 9 August.
The 'Plus' version of the Cayuse Warrior features mission enhancements that include the precision weapons system, avionics improvements and armour, according to MD.
The 9 August contract includes a logistics support package, including initial provisions, spares and pilot and maintainer training.
"We are excited to showcase the capabilities of this purpose built, best value solution," says MD chief executive Brad Pedersen.
The company did not disclose the value of the contract.
Light scout and attack helicopters such as the Cayuse Warrior are often seen as a more affordable option for buyers seeking to procure armed rotary aviation assets, without the higher cost of larger platforms like the Boeing AH-64 Apache.
Manufacturers including MD, Bell and Airbus Helicopters also offer conversion kits for the civilian versions of their light utility helicopters, with an eye maximising economic value for customers.
The Armed MD 530F, Bell 407M and the Airbus Helicopters H125M are all examples of that approach.