Nigeria has signed a contract with MD Helicopters for 12 MD530F Cayuse Warrior Plus armed scout helicopters.
Nigeria's army will operate the rotorcraft and deliveries will commence in the fourth quarter of 2023, says MD Helicopters.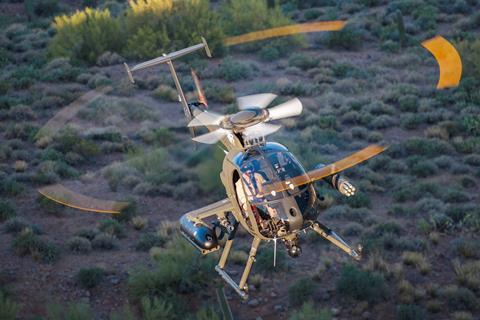 The acquisition was confirmed with a contract signing in Abuja.
MD Helicopters did not provide a value for the deal, which was originally announced in March.
"MD Helicopters is grateful for the trust of the Nigerian government, and we're excited to showcase this purpose built, best value solution to Nigeria and the world," says MD Helicopters president and chief executive Brad Pedersen.
Nigeria plans to use the aircraft for area security, tactical reconnaissance, convoy escort, and drug interdiction missions.
The MD530F is powered by a single Rolls-Royce M250-C30 turboshaft and has a five-bladed fully articulated main rotor. MD Helicopters says pilots benefit from the Garmin flightdeck and excellent visibility outside the helicopter.
The Plus model that Nigeria is obtaining features improvements to the helicopter's weapons systems, avionics, armour, and power generation.
Specific enhancements include the addition of guided rockets alongside unguided rockets, podded machine guns and miniguns, integrated with a Moog weapons management system and chin-mounted L3Harris Wescam MX-10D electro-optical sensor.