MD Helicopters hopes to be building 50 of its MD500-series helicopters annually by 2025 as the US airframer plots a dramatic comeback under new ownership.
Detailing the company's plans in a pre-Heli-Expo briefing on 6 March, chief executive Brad Pedersen said the manufacturer intends to assemble 19 helicopters this year, rising to "more than 24" in 2024.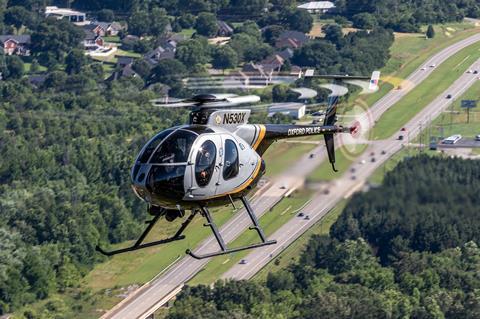 "Our production line is full for 2023 and almost full for 2024," he says, which will include both customer aircraft and 'whitetails' "if there are people that desire one and don't want to wait 18 months or two years".
But MD Helicopters sees potential to increase output of the light-single even further. "For 2025, our plan right now is to get up to 50 aircraft per year again," says Pedersen. These would be split equally between military and civil rotorcraft.
That rate would be the maximum capacity of the current line, he says, although additional capacity could be brought on if required.
Hitting those goals would be a spectacular turnaround for a company that had appeared on the verge of disappearance thanks to the complex bankruptcy in 2018 of funds associated with former chief executive Lynn Tilton and her private equity firm Patriarch Partners, which previously owned MD Helicopters.
A restructured MD Helicopters emerged from bankruptcy protection in August last year with its previous debt holders – Bardin Hill, MBIA Insurance, and MB Global Partners – as owners.
But while the financial foundations of the company were secured, production continued to be subdued thanks to the bankruptcy process: in 2022 it handed over just four aircraft.
Pedersen insists the turnaround is "not rocket surgery", noting many problems "were self-inflicted".
MD Helicopters' immediate priority has been addressing chronic spare-parts shortages that were causing severe difficulties for its customers, investing an eight-figure sum in inventory.
How long its new owners will remain committed remains an open question, however. Nonetheless Ed Dolanski, MD Helicopters chairman, believes they are in it for the long haul – their response to questions around the likely duration of their involvement is telling, he argues.
"The way they talked about it was, 'If this thing is on an upward trajectory and it's performing, why would I get off this train?' And I thought: 'That's exactly what I want to hear.'"
Uncertainly also remains around other products in MD Helicopters' line up. At present, production remains confined to the civil MD530F and military Cayuse Warrior variant, but Pedersen sees need for expansion: "I don't think we can get by with just selling F models. I think we have to have a broader portfolio."
Which dormant models could be resurrected remains under analysis, he says. Additionally, the company continues evaluating whether there is still a market for its NOTAR tail rotor-free technology.
"The question is, from a business standpoint, where do we spend our calories; what's the biggest bang for the buck?" says Pedersen.
Assessing operator demand will be key, adds Dolanski: "We are going to make all our decisions based on what customers are telling us."
But it seems unlikely that assembly of the NOTAR-equipped MD902 will resume. With the production line for the twin-engined type dormant for almost a decade, costs involved even to source spares such as rotor blades are significant.
Pedersen says the business is evaluating all options for the MD900-series, including "restarting the line, selling the line, or telling customers 'Sorry, tough luck'. We are trying to figure out a way forward."

Dominic Perry is deputy editor of Flight International but also contributes extensively to flightglobal.com. Although specialising in the coverage of the helicopter industry, he has written on most topics in aerospace – be they commercial, defence or business aviation. In addition, there has been an increasing focus on the decarbonisation of the industry and zero-emission flight initiatives.
View full Profile