Boeing expects the US Federal Aviation Administration will this summer complete its review of the MH-139 Grey Wolf, a helicopter designed to perform nuclear-security and VIP-transport missions for the US Air Force (USAF).
That is according to Boeing vice-president of vertical lift Mark Cherry, who says Boeing expects to deliver the first Grey Wolf shortly after the expected FAA summer approval. Prior to delays, Boeing had planned to deliver the first Grey Wolf in fiscal year 2021, which ended last September.
"The certification process has taken longer than we expected," Cherry told FlightGlobal on 16 June during a briefing at a Boeing facility in St Louis, Missouri.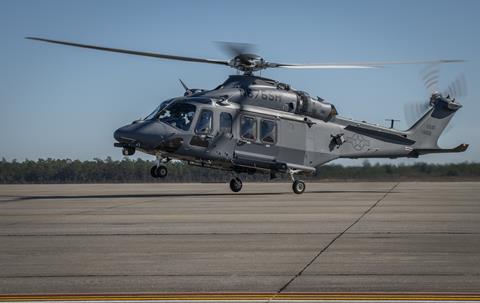 The USAF selected the MH-139A to replace the ageing Bell UH-1N Huey, which security forces use at bases in Montana, North Dakota and Wyoming that house the USA's nuclear-capable intercontinental ballistic missile silos. The Grey Wolf will also be used to transport senior government officials in the Washington, DC area.
American aerospace giant Boeing won a $2.38 billion fixed-price contract from the USAF in 2018 to deliver up to 84 MH-139As. That number has since been revised downward to 80 aircraft.
For the project, Boeing partnered with Italy's Leonardo, whose subsidiary Leonardo Helicopters produces the AW139 civilian rotorcraft, on which the Grey Wolf is based.
Boeing intends to modify AW139 airframes for military use and deliver them to the USAF. However, the company has reportedly experienced challenges in getting the aircraft certified by the FAA.
Cherry tells FlightGlobal the MH-139 poses unique challenges for the company and regulators, partly because it is a military aircraft intended to be operated primarily in US civil airspace. He notes the FAA, for instance, has no experience evaluating some of the aircraft's military equipment, such as its identification friend-or-foe transponder.
Cherry also says labour and supply chain challenges related to the Covid-19 pandemic contributed to delays. In 2021, the USAF delayed a planned MH-139 purchase due to the lack of FAA certification.
A recent report from the US Government Accountability Office said Boeing has had difficulty integrating new components into the existing airframe, and that early certification testing forced the redesign of several such components.
The USAF intends to buy five Grey Wolf helicopters for $156 million in fiscal year 2023, and has already procured the first eight MH-139As.