Seoul has announced its intention to order 12 Sikorsky MH-60R anti-submarine warfare (ASW) helicopters under its Maritime Operations Helicopter requirement.
A contract is expected to be "concluded within this year", with the value pegged at W960 billion ($878 million), says South Korea's Defense Acquisition Program Administration (DAPA).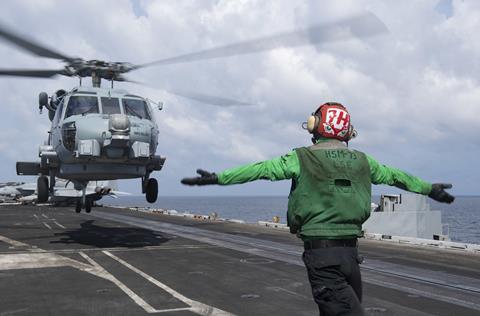 The MH-60R's selection will come as a disappointment for Leonardo Helicopters, which pitched the AW159 Wildcat for the requirement. The AW159 had won an earlier South Korean contest for ASW helicopters, with the nation's navy operating eight examples.
When the MOH deal was originally announced in 2017, DAPA said the 12 additional rotorcraft were required owing to the increased submarine threat from North Korea. At that time, it was considering three types: the AW159, MH-60R, and NH Industries' NH90.
Ultimately only the Leonardo (then named AgustaWestland) team also submitted a bid for the deal. South Korean media reports indicated that DAPA planned to go with the AW159 on a sole-source supplier basis, but then Washington DC said it would offer pricing for the MH-60R under the Foreign Military Sales (FMS) mechanism.
Subsequently, DAPA issued a second request for proposals in May 2019, with the US government issuing an MH-60R FMS case three months later in August, pegging the value of the 12-helicopter deal at $800 million. In addition to the helicopters, the purchase also includes weapons, sonobouys, radars and communications equipment, as well as training and support.
Cirium fleets data shows that the MH-60R's primary operator is the US Navy, with 263 in-service examples. It is also operated by Australia, Denmark and Saudi Arabia. Greece and India have orders for the type.