Mitsubishi Heavy Industries (MHI) has completed testing with two prototypes of an upgraded SH-60K anti-submarine warfare helicopter.
The two rotorcraft have been delivered to Japan's Acquisition, Technology & Logistics Agency (ATLA), says MHI.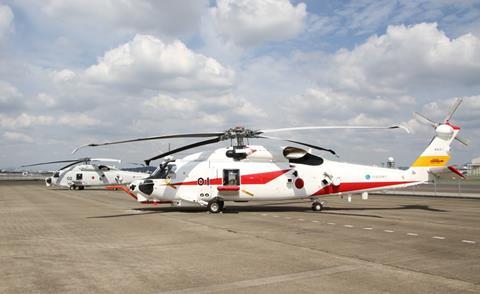 Separately, ATLA says the two rotorcraft will operate testing flights from the country's Atsugi air base.
"The state-of-the-art helicopter, which has been improved in its capabilities, made its first flight in May this year and has been steadily conducting various confirmation tests," adds MHI.
MHI licence-built both the SH-60J and the subsequent SH-60K under licence from Sikorsky.
A designation for the upgraded version of the SH-60K has yet to be given.
Cirium fleets data shows that the Japan Maritime Self-Defense Force operates 119 examples of the H-60 series, comprising 42 SH-60Js, 62 SH-60Ks, and 15 UH-60Js.