The Mil Mi-26T2V heavy-lift helicopter will be subjected to a series of tests by the Russian government during 2020.
Assessment work with the updated version of the venerable Cold War type will take place at four locations, with crews from the Russian military testing the rotorcraft's performance and new systems, says Russian Helicopters.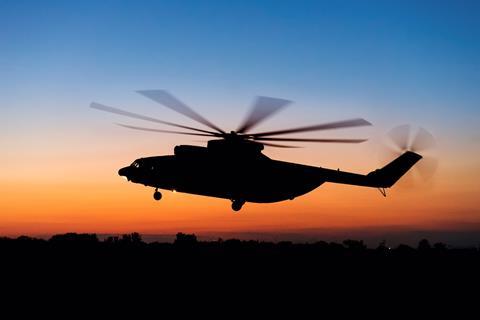 "We have taken into account all preferences of the customer and implemented them in Mi-26T2V helicopter design," says Russian Helicopters director general Andrey Boginsky.
"The performance of the machine will be considerably improved due to the modernization. I am convinced that Mi-26T2V helicopter will have a rightful place in the Russian armed forces."
In April, Russian Helicopters had announced that the type had completed preliminary flight tests, and that this set the stage for it to be handed over to the Russian defence ministry.
The rotorcraft first flew in August 2018, and initial testing was conducted from the Mil Moscow Helicopter plant. Russian Helicopters says the Mi-26 is the world's largest helicopter, with a maximum take-off weight of 56t and capable of carrying a 20t payload.
Its new NPK90-2V avionics suite simplifies the crew's workload, including an automatic mode that includes performing approach and final approach manoeuvres.
Cirium fleets data shows 136 Mi-26s in service globally. The Russian Air Force is the biggest operate with 44 examples, followed by Algeria with 14.
Separately, Russian Helicopters parent company Rostec said it had delivered "over 20 attack helicopters" to the country's defence ministry in 2019. Deliveries included Kamov Ka-52 Alligators, Mi-35Ms, Mi-28Ns, and Mi-28UBs.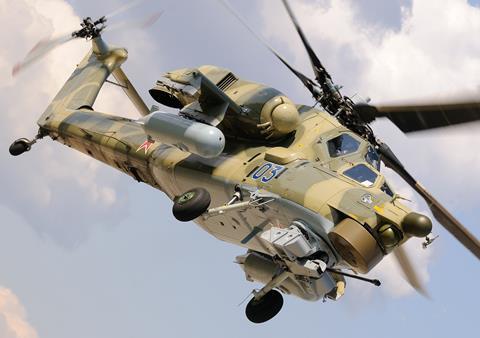 The year also saw the first delivery of the new Mi-28NM Night Hunter attack helicopter, of which 98 will be produced by 2027. The Mi-28NM features more powerful engines if the form of the Klimov VK-2500, improved rotor blades, an updated fire control system, and other improvements.