Lessor Milestone Aviation expects, by year-end, to have returned all its fleet of Sikorsky S-92 heavy-twins to service on the back of an oil and gas rebound that has been driving operator demand for helicopters.
Milestone – part of leasing giant AerCap – in 2022 saw a record year for transactions, placing or extending the leases of 150 helicopters of all types, says Sebastien Moulin, head of Europe and Americas. A normal year would see around 60 such transactions, he notes.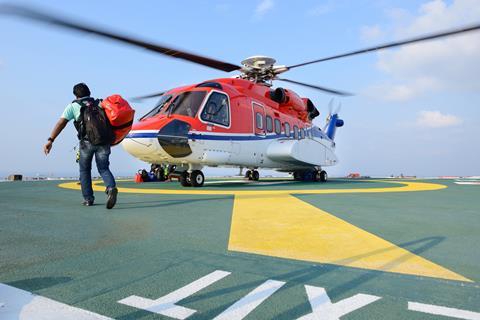 "2022 was very, very active: we have seen a lot of demand and we have put almost all of our available aircraft back to work," says Moulin.
But through the oil and gas downturn, the helicopter most affected by the overcapacity issues that followed was the S-92, with dozens of units parked.
Data from consultancy Air and Sea Analytics shows that at the end of the first quarter of 2022, 41 S-92s were idle, with a further 34 lessor-owned units uncontracted, from the total offshore-roled fleet of 211 S-92s.
That situation has now reversed: Air and Sea's data for the final quarter of 2022 reveals that 32 S-92s were idle and just 13 are uncontracted; effective utilisation rates have risen from 83% to 93%.
Michael York, head of emerging markets at Milestone, acknowledges the dramatic turnaround. "To be very specific about the S-92, the very last handful that we had left are in return to service now and we expect to have zero by the end of the year – literally our entire fleet utilised."
That has not been without challenges, however. "Our technical team has worked very hard getting aircraft that in some cases had been in storage six or seven years returned to service," says York.
But higher demand to return S-92s to service has meant less urgency to Milestone's plans to secure a second life for the heavy-twin.
At last year's Heli-Expo show Milestone was promoting a firefighting version of the S-92. Although work continues to gain approval for the modification, Moulin says in the short term "we have been focusing a lot more on getting aircraft back to their primary oil and gas missions to meet the needs of our customers".
Securing a secondary market for older airframes remains "a long-term priority", stresses Moulin, and Milestone "remains committed to the development and the certification of that equipment", he adds.
Additionally, Milestone sees potential for the S-92 to perform utility transport missions, replacing older types like the S-61 or Russian-built helicopters for which spares are increasingly difficult to source.
Meanwhile, the lessor continues to monitor market demand to ascertain if there is a requirement for future orders. "There is no doubt in our minds that we will continue investing in the space," says Moulin. However, he stresses that Milestone will exercise "discipline" to avoid over-ordering.
Transactions detailed by Milestone at this week's Heli-Expo show include the lease of five helicopters to Saudi Arabia's Aramco – three Leonardo AW139s and a pair of Airbus H145s – and the sale of a portfolio of up to seven H225s and Bell 412s to Rotortrade. Those deals come on top of the sale of a single low-hour S-92 to China Southern General Aviation.

Dominic Perry is deputy editor of Flight International but also contributes extensively to flightglobal.com. Although specialising in the coverage of the helicopter industry, he has written on most topics in aerospace – be they commercial, defence or business aviation. In addition, there has been an increasing focus on the decarbonisation of the industry and zero-emission flight initiatives.
View full Profile