Leonardo's helicopter division produced a strong first quarter of 2023, with two large military deals helping to lift the Italian aerospace champion's order intake by more than 25% on the same period a year earlier.
Group order intake rose to €4.9 billion ($5.4 billion), up 29.3% from €3.7 billion in the first three months of 2022, helped by the helicopter business, which saw its order intake rise by nearly 120%, to €1.8 billion, from €863 million a year earlier.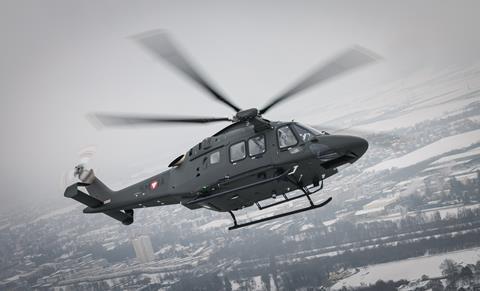 Notable sales include a follow-on commitment from Austria for 18 AW169M medium-twins for its armed forces, and the first production contract from the US Air Force for 13 of the MH-139 Grey Wolf helicopters Leonardo is co-developing with Boeing.
Leonardo Helicopters also received contracts from undisclosed export customers for mid-life upgrades covering three AW159s and a pair of AW101s, it says.
To date, the only export customers for the AW159 are the South Korean and the Philippine navies, albeit the latter has only two examples in service.
Additionally, the division received a "number of orders on the civil side", largely for the AW139 intermediate-twin, chief financial officer Alessandra Genco told analysts on 4 May, which "provides further evidence as to the civil [market's] steady recovery".
Increased civil activity included "some orders being accelerated by customers" in the oil and gas business, she adds.
Although not contributing to the division's financial performance, Leonardo Helicopters also in the first quarter flew the second prototype of the AW249 Fenice attack helicopter it is developing for the Italian army.
A third prototype is "pretty close", adds outgoing chief executive Alessandro Profumo. Describing it as a "fantastic" helicopter, he adds: "I have seen it flying many times and it is impressive what it is capable of doing.
"Now we have to speed up the certification process and we are working hand in hand with [Italy's] defence system."
Service entry for the AW249 is planned for 2025 as the Italian army begins to retire its fleet of AW129D Mangusta helicopters.
Elsewhere, order intake at the firm's defence electronics business also rose, growing by 9.1% to €2.3 billion from €2.1 billion a year earlier, while the aircraft division saw orders slide slightly to €731 million from €781 million in the same period of 2022.
However, Leonardo points out that the aircraft division benefited in the first quarter of last year from an initial design contract for the multinational Eurodrone programme. It adds: "In 2023 worth noting are the orders for the logistic component of [the Eurofighter], for two special-version ATR aircraft and the anticipation of orders for the [Lockheed Martin F-35] JSF programme."
Leonardo is a partner in ATR alongside Airbus, in the Eurofighter programme with Airbus Defence & Space and BAE Systems, and produces structures for the F-35, plus runs a final assembly and check-out facility for the fifth-generation type in Cameri, northern Italy.
The identity of the customer for the special-mission ATR twin-turboprops has not been disclosed, although Leonardo says they will be used for a "wide range of maritime patrol missions".
Leonardo additionally recorded delivery of two commercial ATRs during the quarter, matching the manufacturer's performance in the same period of 2022. However, profitability on the programme declined slightly, with ATR's contribution falling from -€10 million to -€16 million.
Genco says the airframer faced supply chain challenges in the period, in line with much of the aerospace industry. However, Leonardo is "encouraged by ATR's recent new order intake, its growing backlog and its improving market outlook", she says, which is "confirmation of its expectation of higher deliveries" this year compared with 2022.
Its aerostructures operation saw business improve, booking €126 million of new orders, largely driven by the Boeing 787 programme, resulting in higher asset utilisation at the unit's Grottaglie site in southern Italy which manufacturers composite fuselage barrels for the Dreamliner.
Leonardo shipped 10 fuselage sections and eight horizontal stabilisers for the 787 during the quarter – against three of each component in the first three months of 2022 – and six fuselages to ATR, against two in the same period a year earlier.
Group first-quarter revenues were largely flat year on year at a little over €3 billion, while EBIT rose to €123 million from €93 million. Revenue in the helicopter business stood at €880 million, in defence electronics €1.5 billion, in aircraft €559 million, and aerostructures €151 million.
This story has been updated to include additional information in the 15th paragraph.

Dominic Perry is deputy editor of Flight International but also contributes extensively to flightglobal.com. Although specialising in the coverage of the helicopter industry, he has written on most topics in aerospace – be they commercial, defence or business aviation. In addition, there has been an increasing focus on the decarbonisation of the industry and zero-emission flight initiatives.
View full Profile