A group of NATO nations are gearing up for a busy 2023 as they officially begin work in earnest to define the characteristics of a next-generation medium-class helicopter that could enter service in the late 2030s.
In addition, the six countries currently leading the Next Generation Rotorcraft Capability (NGRC) programme – France, Germany, Greece, Italy, the Netherlands and the UK – will from March be joined by Canada as a full project partner.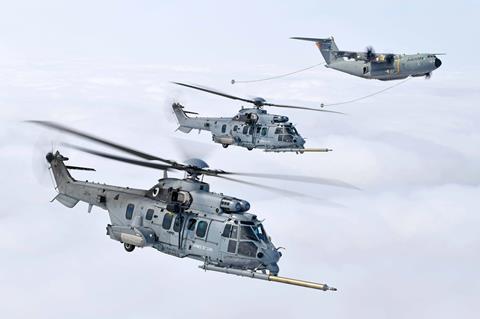 To date, Canada has had observer status on the programme, but will be admitted to the newly formed NGRC Acquisition Support Partnership (ASP) at the end of the first quarter through the modification of a memorandum of understanding that underpins the project.
The ASP was formed after a meeting of the lead countries and the NATO Support and Procurement Agency (NSPA), which is managing the NGRC concept stage, in late November 2022.
Following that agreement, the NGRC programme team has been "partially activated" since the beginning of January, the NSPA says.
It hopes to "initiate contractual activities" with the market in the summer of 2023, as it works to complete the project's concept phase by the end of 2025.
Under that process, three key topics will be explored with industry: the use of alternative energy sources, such as hybrid or electric propulsion; a modular open system architecture; and a NGRC concept review.
Another two topic areas will not be opened to the market: continuous assessment and testing of the NGRC concept of operations through simulation; and identification of current and future research studies dealing with rotorcraft capability and related technologies.
Additional nations could also be admitted to the project as observers during the concept study phase, the NSPA adds.
The concept studies will help define the eventual design of the NGRC helicopter, which could be fielded in around 2035-2040. The initial six nations in June 2022 committed €26.7 million ($28.3 million) to fund the concept phase.
NATO sees its members, excluding the USA, needing to replace up to 1,000 medium-weight helicopters in the coming decades.
A list of required attributes for the NGRC, published in September 2021, included a maximum cruise speed of 220kt (407km/h) or above, and not less than 180kt, unrefuelled range in excess of 900nm (1,650km), and a maximum take-off weight of 10-17t, with internal payload of 2.5t.

Dominic Perry is deputy editor of Flight International but also contributes extensively to flightglobal.com. Although specialising in the coverage of the helicopter industry, he has written on most topics in aerospace – be they commercial, defence or business aviation. In addition, there has been an increasing focus on the decarbonisation of the industry and zero-emission flight initiatives.
View full Profile