Defence ministers from six NATO member countries have signed an agreement to launch the concept phase that could lead to the development of a next-generation military helicopter.
France, Germany, Greece, Italy, the Netherlands and the UK have committed a combined €26.7 million ($27.9 million) to fund the first phase of the Next Generation Rotorcraft Capability (NGRC) programme.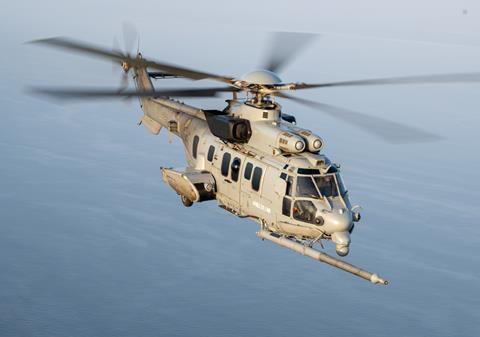 Should NGRC proceed as planned, then a clean-sheet medium/heavy helicopter will be available to be fielded in the 2035-2040 timeframe.
NATO says the concept phase analysis will be performed alongside industry and will "explore how to match their needs with the latest technology on the market".
This includes hybrid and electric propulsion, a modular open system architecture, and "the delivery of radically improved flight characteristics".
A list of required attributes for the NGRC, published in September 2021, included a maximum cruise speed of 220kt (407km/h) or above, and not less than 180kt, unrefuelled range in excess of 900nm (1,650km), and a maximum take-off weight of 10-17t, with internal payload of 2.5t.
However, a senior Airbus Helicopters executive recently indicated that if speed remained a priority, then the helicopter would need to be at the upper end of the weight range in order to maintain its other performance characteristics.
To be managed by the NATO Support and Procurement Agency (NSPA), the concept phase will run until 2025.
Cyril Heckel, NGRC project manager at the NSPA, said in February that six to eight studies would be initiated under the concept phase to feed into the design of the eventual rotorcraft.
NATO sees members excluding the USA needing to replace up to 1,000 medium-weight helicopters in the coming decades.

Dominic Perry is deputy editor of Flight International but also contributes extensively to flightglobal.com. Although specialising in the coverage of the helicopter industry, he has written on most topics in aerospace – be they commercial, defence or business aviation. In addition, there has been an increasing focus on the decarbonisation of the industry and zero-emission flight initiatives.
View full Profile