The Netherlands expects to receive its first of 14 Airbus Helicopters H225M Caracal rotorcraft in 2028, having on 5 June announced that it had chosen the heavy-twin to succeed its current 12-strong fleet of AS532 Cougars.
Detailing the selection in a letter to lawmakers, defence secretary Christophe van der Maat says the H225M was picked ahead of the competing Sikorsky UH-60M Black Hawk as the Caracal better met the nation's requirements for a special forces helicopter.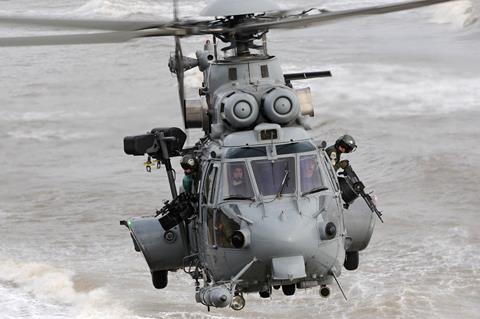 He highlights the type's large cabin, long range, and maritime deployability. Financial considerations were not a factor in the selection, he adds.
In all, eight different helicopter types were considered, with the Dutch defence ministry whittling these down to two candidates.
Additional analysis of the H225M and UH-60M were then conducted, including test flights, with the Caracal coming out on top.
"The initial exploratory research phase showed that both the Sikorsky UH-60M Black Hawk and the H225M Caracal met most of the requirements. Based on additional information from the [request for information], discussions with subject matter experts and test flights, however, it turned out that the UH-60M did not meet several requirements," the letter discloses.
Total budget for the acquisition is €1-2.5 billion ($1-2.6 billion), although the exact figure has not been disclosed. The procurement includes a logistics support and training package.
Van der Maat says the defence ministry hopes to finalise the contract with Airbus Helicopters in 2024, leading to the arrival of the initial H225M in 2028; deliveries will run until 2030.
Initial operational capability is expected to be declared in 2030, and full operational capability the following year.

Dominic Perry is deputy editor of Flight International but also contributes extensively to flightglobal.com. Although specialising in the coverage of the helicopter industry, he has written on most topics in aerospace – be they commercial, defence or business aviation. In addition, there has been an increasing focus on the decarbonisation of the industry and zero-emission flight initiatives.
View full Profile