A second round of windtunnel testing is under way of a new composite wing which will equip a high-speed tiltrotor demonstrator being developed as part of the EU's Clean Sky 2 programme.
The T-Wing consortium – led by the Italian aerospace research centre CIRA – is in partnership with Leonardo Helicopters for the development of the Next-Generation Civil Tiltrotor TechDemo (NGCTR-TD), an aircraft which is due to make its maiden flight in 2023.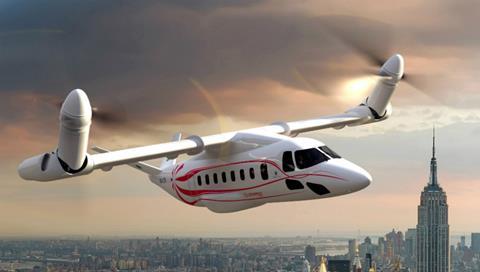 Initial assessment of the NGCTR-TD's aerodynamic performance was conducted by Leonardo Helicopters in June 2019 with the support of T-Wing, Clean Sky 2's LIFT project and other partners and suppliers.
During the new round of evaluations, due to last for two weeks, a 1.2m (3ft 11in)-long model, developed by IBK Innovation, will be used. It is based on the wing's aerofoil, complete with a moveable flaperon.
It will be integrated into "a complex experimental set-up called DEMOS", says CIRA's research and development manager and T-WING project coordinator Luigi Di Palma. This will allow "pitch rotation according to user-defined laws".
"The machine is a dynamic one, able to rotate the wing model at high speed during the windtunnel runs," he says.
Meanwhile, the T-Wing partners have completed the critical design review for the structure and have begun initial manufacturing activities to support the production of full-scale ground- and flight-test wings for the project.
The T-Wing consortium comprises Naples, Italy-based MA Group as industrial leader; Italian machining expert OMI; crash-test specialist SSM, also from Naples; German engineering consultancy IBK Innovation, which specialises in loading and aeroelasticity; and University of Naples Federico II for experimental dynamics.
"At present, MA Group is finalising the industrial manufacturing process of the wing based on the tooling being constructed by OMI," says Di Palma.
"This wing is a very unconventional design and is based on a highly integrated wingbox concept developed by MA Group on an in-service CS-25 [category aircraft] programme.
"Before manufacturing the test articles, the consortium is perfecting the process through several full-scale manufacturing trials that are currently in progress," he says.