NH Industries (NHI) has delivered the 500th NH90, handing over the milestone helicopter – a TTH troop transport variant – to the French army.
Taking place at a special ceremony at the Marignane headquarters of lead NHI shareholder Airbus Helicopters in southern France, the event was attended by six NH90 operators and the head of NATO helicopter procurement body NAHEMA.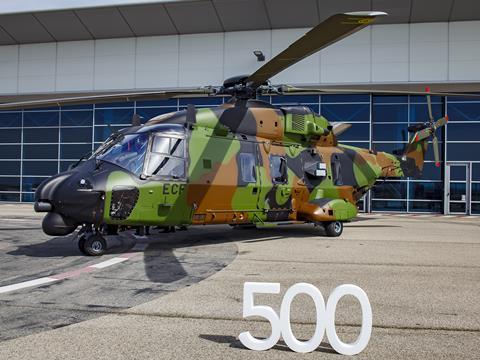 Speaking ahead of what he described as a "significant milestone" for the NH90 on 17 March, programme chief Axel Aloccio hailed the "positive news", saying it was "great to be able to celebrate this achievement".
Aloccio, who was appointed president of NHI last year, says the company – a consortium comprising Airbus, Leonardo Helicopters and GKN/Fokker – is making progress with its efforts to increase the availability and flight hours of the NH90; two persistent complaints from operators.
A transformation programme – 'New Horizon' – launched in 2021, came to an end last year, having made improvements to the provision of support and services to customers and increased the time before overhaul for key parts in order to reduce the "maintenance burden".
"We are making a lot of progress on this even if it is not really visible yet in the KPIs [key performance indicators] that we monitor with our customers on a monthly basis," he says.
But the company continues to evolve "even if we have not started a new transformation plan", says Aloccio.
NHI's latest focus is on its supply chain and is designed to both increase the pace of component overhaul and repair, and to raise the overall capacity for such activities.
This effort is in support of a customer ambition to double annual flight time from 40,000h in 2022 to 80,000h "before the end of the 2020s".
That will partly be aided by future deliveries – a little under 100 helicopters remain in the firm order backlog – but nations also "want to increase the rate of operations of their current NH90s – they want to fly more with the same number of aircraft", Aloccio says.
"So, we need to resize ourselves to be able to meet this increasing demand.
"This is clearly the last big push we need to do to adjust the capacity of our supply chain to meet these increasing flight-hour ambitions of all the nations."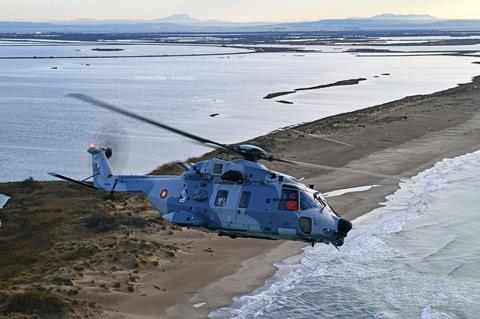 Buy-in from suppliers has been received, he says, "which really gives me confidence that we will have the support system that is need to meet the ambition of our customers."
Aloccio sees the potential for another 50-100 NH90 orders over the next five years, from both existing and new customers, with sales discussions ongoing.
He believes the successful entry of NH90s into Qatari service will serve as an encouragement to other potential operators. To date, Doha has received five of the naval NFH variant and four TTHs from its 28-unit order.
"The contract is running extremely well and more importantly the helicopters are performing extremely well," says Aloccio, who highlights the type's achievement of an 80% availability rate despite the "very tough" operating conditions in the Middle East.
Meanwhile, development activities continue on behalf of three current customers: Germany's Sea Tiger programme, first flight of which is due this summer; the Standard 3 version of the TTH for the Spanish army, plus the first units for its navy, the maiden sortie of which is due later this summer; and the Standard 2 special forces version for the French army.
While the Standard 2 configuration includes a new fast rope beam and integration of Safran's EuroFLIR electro-optical/infrared sensor, a future step that would see the integration of a distributed aperture system to enhance operations in degraded visual environments is not yet under contract.
Aloccio says additional customers are being sought for that upgrade. "What we are doing with France is to see if other nations could [also] be interested in contracting this capability. If not, France will have to contract it alone."
But the principle of common upgrades is one that is being increasingly applied, he adds. "We really need to make sure that this common product evolution strategy is implemented – it is for the benefit of the nations to improve the affordability of the aircraft and reduce the cost and duration of the development."
Despite the celebrations, there were ghosts at the feast: the six nations present included Australia and Sweden, two NH90 operators that seem set on leaving the programme.
Canberra has already announced its decision to ditch the NH90 and has placed orders for Sikorsky's UH-60M Black Hawk and MH-60R Seahawk, while in November last year Stockholm's armed forces recommended the country's 18 NH90s be replaced in part by the Black Hawk.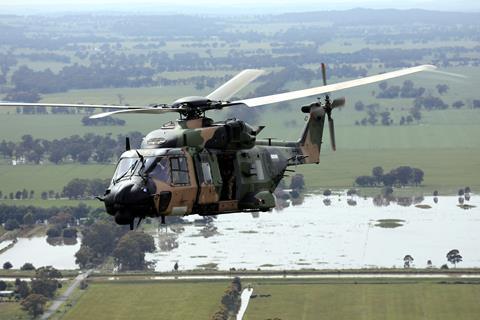 Aloccio says discussions continue with Australia on requirements for continued support amidst the transition to the new helicopters. In addition, NHI is eyeing the possible purchase of Canberra's 47-strong NH90 fleet to generate a pool of spare parts.
He also stresses that Sweden has yet to make a formal decision on the future of its NH90s. "We have a very good, open dialogue with the Swedes," he says. "We are explaining to them why we believe keeping the NH90 is the most rational decision… from an economic point of view."
Acquiring a new type would cost "billions of kronor" to "replace a platform which is perfectly capable and working extremely well in Sweden". He highlights the Saab mission equipment in Sweden's anti-submarine warfare-roled NH90s, which has been tailored for operations in the Baltic Sea.
"So, for economic and operational reasons we believe that for them the best choice is to keep the NH90s. But, of course, we respect their rationale and their decision, whatever it will be."
Although relations with Sweden remain cordial, the same cannot be said for those with Nordic neighbour Norway. Oslo has a long-standing grievance over delays to the delivery of 14 NH90s and fleet availability, which culminated last year in its cancellation of the contract and a claim for NKr5 billion ($500 million) in compensation.
That decision was reinforced on 14 March, when Norway's defence ministry announced it had selected the MH-60R as a partial replacement for the NH90 fleet and was seeking to order an initial six examples.
Aloccio declines to comment on the substance of any discussions with Oslo, but says he was "surprised" by the MH-60R order.
"We are still discussing or at least we are still in the spirit of trying to find an amicable way out of the issue we have today with Norway."
He contrasts the NKr12 billion budget set by Norway for the NH90 replacement with the lower cost of solutions proposed by NHI to increase availability.
"For a very small amount of money, or even no money at all, we believe that we offered them a way to operate the aircraft and have them perform the necessary missions.
"On the one hand you have this and on the other you will invest billions in buying a new platform… it doesn't make sense from an economical point of view."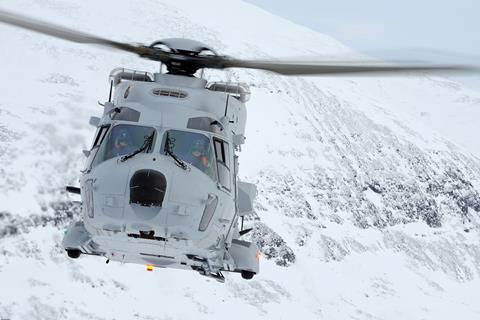 Dominic Perry is deputy editor of Flight International but also contributes extensively to flightglobal.com. Although specialising in the coverage of the helicopter industry, he has written on most topics in aerospace – be they commercial, defence or business aviation. In addition, there has been an increasing focus on the decarbonisation of the industry and zero-emission flight initiatives.
View full Profile