NH Industries (NHI) insists it has not abandoned hope that Australia will reverse an apparent decision to push its fleet of NH90 helicopters into early retirement in favour of new Sikorsky UH-60M Black Hawks for its army.
But that would require a seismic shift in Canberra's position; announcing the preference for Black Hawks on 10 December, defence minister Peter Dutton branded problems with the NH90 as "unresolvable" and slammed the platform for its poor levels of availability and cost.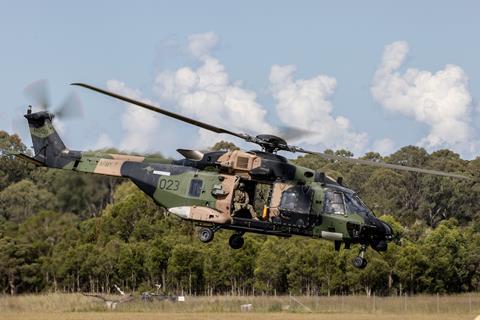 Nonetheless, NHI maintains that Australian officials have presented it with a different message: that the country is merely evaluating options and that no final decision will be taken before the end of 2022.
"We had several calls with Australian representatives and the message that we got was very clear that the decision was not taken yet," says Nathalie Tarnaud Laude, head of NH90 program at Airbus Helicopters and president of NH Industries.
"At this time we are not taking for granted that Australia is going to withdraw from the NH90."
Tarnaud Laude says the more nuanced position, which contradicts Dutton's public pronouncements, was directly conveyed both to herself and Bruno Even, chief executive of Airbus Helicopters – a partner in the NHI consortium alongside Leonardo Helicopters and Fokker.
But in order to ensure the fleet of 47 MRH90 Taipans – Australia's designation for the 11t-class helicopter – continues in service, NHI must convince its customer that the programme is making progress.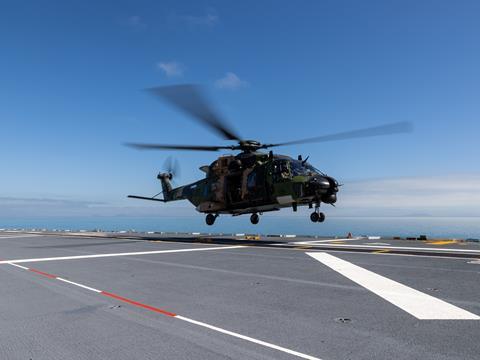 Tarnaud Laude says the company has been "doing a lot to support" Australia over the last two years and that "we have made quite significant steps in improving the performance and availability of the Australian aircraft".
She acknowledges that the 39% availability rate recorded in 2020, up from 37% the previous year, "was not the right level of performance" but believes the programme is now on the right track. Australia has set NHI a target to have 38 Taipans in service by mid-2022, demonstrating a 65% availability rate; those figures are presently 36 aircraft with 54% availability.
"We feel there have been some steps taken in 2021 and we want to continue to support the Australian forces to try to restore confidence [in the NH90] and hope that by the end of the year a decision might go in a different direction.
"This is the only target we should have for 2022 – to bring forward what we initiated in 2021 and which has shown very good results."
But pressed on the apparent finality of Dutton's comments, she adds: "All I can say is that the quote in the press is different to the message we got as industry."