NH Industries (NHI) believes operators of the NH90 helicopter will see a significant improvement in aircraft availability over the next 12 months as concerted efforts by the airframer and its partners begin to pay dividends.
Recent headlines have been dominated by bad news for the NH90, with customers Australia and Norway both highlighting issues with the 11t-class helicopter.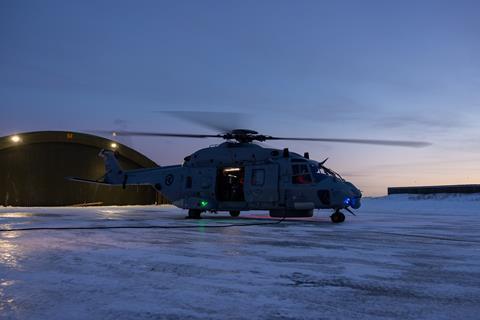 However, they are not the only customers to have complained about the rotorcraft's performance, a fact acknowledged by Nathalie Tarnaud Laude, head of the NH90 programme at Airbus Helicopters and president of NHI, which is a joint venture also involving Leonardo Helicopters and Fokker.
To address this, NHI launched in 2020 a "very ambitious transformation plan", which aims to "tackle some of the issues that we have experienced", she says.
This includes cutting the maintenance burden and reducing repair times, plus increasing the availability of spare parts.
By the end of 2022, NHI aims for the availability across the global fleet to have increased by 10-20 percentage points from the end-2020 baseline, to around 50-60%.
Tarnaud Laude says there has been progress over the last 12 months, but stresses a larger impact will only be visible by the end of 2022.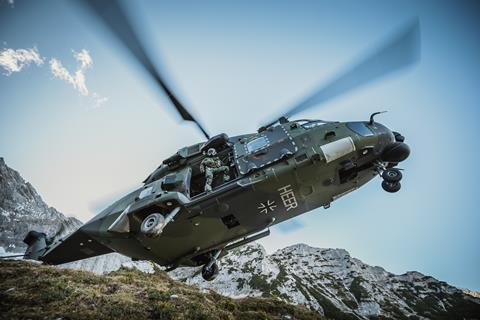 "At the moment we are just a bit improved from 2020 on average but the significant improvement we are looking to is for 2022."
Localisation of maintenance activities also promises to bring improvements, she says, pointing to Norway where NHI is discussing with Kongsberg the potential to add "future MRO capability" on top of its existing main gearbox overhaul facility.
NHI is also aiming to substantially reduce the time it takes to retrofit aircraft to bring them to the full operatiional capability standard. That process currently takes up to 24 months on average.
"This is an area where we need to make progress. We have helicopters sitting in our premises for too long," she says.
Initial improvements to the current process should reduce the duration by six months, but NHI has launched a study which aims to entirely rethink how the retrofit is performed. This should enable lead time to be cut to around 12 months, she says.
A total of 112 NH90s still need to be retrofitted, from a 179-strong pool. In all, 13 retrofits will be delivered this year, an improvement on the five handed over in 2020, "and next year our ambition is to deliver a lot more helicopters".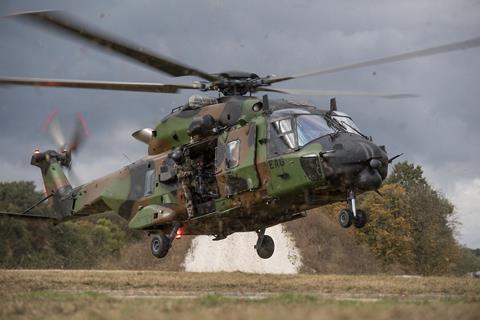 Shipments of new-build helicopters will be flat in 2021: NHI expects to deliver "a minimum" of 27 NH90s against 28 last year. However, early December saw two milestone deliveries – the French navy taking its final anti-submarine warfare NFH variant and Qatar receiving its first TTH troop transport.
Backlog for the programme stands at 130 units, from a total order book of 597, and Tarnaud Laude thinks "a reasonable target" would be the sale of "at least" 100 more helicopters in the coming years.
While that total includes top-up orders from current operators, NHI has also tabled offers to a "couple of interested parties" who would be new to the programme.
Meanwhile, development work continues on the Standard 2 upgrade for the French army. Designed for special forces missions, initial modifications include the addition of the Safran EuroFLIR 410 electro-optronic system, with displays and controls available for all on board, a new generation digital map generator, plus the introduction of a fast roping and rappelling capacity through the doors, an enlarged rear sliding window allowing the use of a machine gun.
A second step, which is still to be contracted, will gain a new distributed aperture system (DAS) – six infrared cameras arrayed around the nose – with the 3D image generated then presented on the digital screen of a next-generation Thales TopOwl helmet, aiding operations in degraded visual environments, such as brown- or white-out conditions.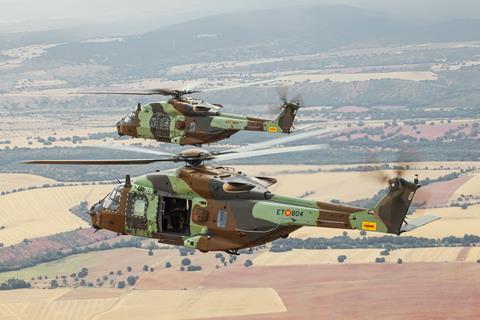 To be applied to France's last 10 examples of the TTH variant, deliveries of Standard 2 helicopters are on-track to begin in 2025, she says. Additional customers for the upgrade may also emerge, with talks ongoing between Paris and prospective buyers.
In addition, a separate major system upgrade called SWR3 – currently being discussed with the NATO NAHEMA agency and NH90 operators – may include a new datalink to the Link 22 standard.
Meanwhile early discussions have started among the operator base around the potential for a mid-life upgrade (MLU) for the NH90 in order to define "the capabilities [required] for a horizon of 2030," says Tarnaud Laude.
France is leading the effort to keep the NH90 relevant into the 2040s and beyond and in July 2021 organised a meeting of operator nations at Istres air base to begin that process
However, Tarnaud Laude declines to speculate on what elements could be considered for any prospective MLU.
Although the upgrade could progress without all the operators signing up, she says it is "our objective to convince as many nations as possible to join the MLU".