NH Industries (NHI) has reiterated that it has seen no evidence that a technical fault was behind the 28 July crash of an Australian MRH90 Taipan in which four crew members died.
In the wake of the accident, Canberra grounded its remaining 45-strong fleet of MRH90s – its name for the NH90 – and on 29 September revealed that the transport helicopters would not be returned to flight before their December 2024 retirement date.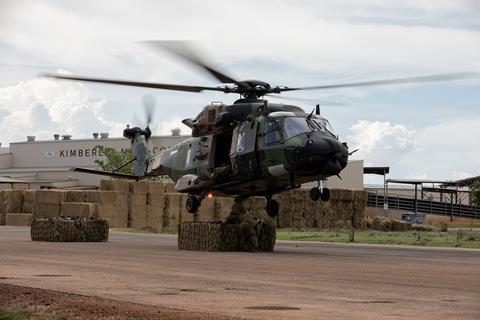 Although the Australian Department of Defence insists the announcement "does not presuppose or any way suggest the outcome of the investigations into the tragic incident", it has led to speculation regarding the safety of the wider NH90 fleet.
But Axel Aloccio, president of NHI, stresses that it has seen nothing to support fears over the helicopter's airworthiness: "We want to make clear that we believe that this decision is not linked to any particular safety concern regarding the NH90."
Although reluctant to comment on an ongoing investigation, which is being led by Australia's Defence Flight Safety Bureau, Aloccio says the manufacturer's analysis of the helicopter's cockpit-voice and flight-data recorders (FDR) has not revealed a problem.
"We have not identified any technical issue or any malfunction, or alarm or alert," he says. "The aircraft… has worked without any particular issue. That is what we see in the analysis of the FDR data."
While cautioning that the investigation is "still at the beginning" of its work, "we do not identify any particular technical issue, which is why NHI has not released any protective measures for the rest of the fleet", he says.
In addition, Australia's accelerated retirement of the Taipan fleet will not change NHI's interaction with the country, he says.
NHI will continue to support the investigation, he says, while also negotiating the acquisition of the MRH90s for spare parts.
These would be dismantled locally by Airbus Australia Pacific (AAP), the airframer's Queensland-headquartered subsidiary. Airbus Helicopters is the largest shareholder in the NHI consortium, alongside Leonardo and GKN-Fokker.
However, the parts retrieval could be the last act for some of the AAP workforce. "We were planning on keeping those skilled people quite busy for the entire year of 2024 [with] regular maintenance activities.
"But with the full-stop of operations now we need to find a way to assist the 400 workers who will be made redundant by AAP in the coming weeks and months because they are no longer needed; there is no more work to support them."
Determining how best to "support and transition those workers" forms part of its discussions with the Australian government, he adds.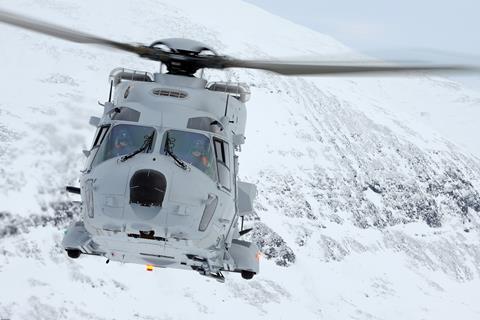 Meanwhile, NHI is maintaining a "very open dialogue" with Sweden, which in November 2022 detailed a proposal to phase out its fleet of 18 NH90s by 2035.
That strategy still needs parliamentary approval, and Aloccio believes NHI can persuade Stockholm that it would offer better value for money to retain the European-built helicopters rather than buying new US-made Sikorsky UH-60 Black Hawks.
"We are trying to make our view heard on the topic," he says. "We believe they can make better use of their money rather than replacing the platform which is perfectly fine and performing well."
Sweden's anti-submarine warfare-roled NH90s in particular have "good availability rates" and are "super-efficient in terms of the mission they perform… in the Baltic Sea", says Aloccio.
He maintains the availability issues suffered by Sweden are due to supply chain and staffing problems "which can be fixed and improved for a tiny portion of what it would cost to acquire new platforms".

Dominic Perry is deputy editor of Flight International but also contributes extensively to flightglobal.com. Although specialising in the coverage of the helicopter industry, he has written on most topics in aerospace – be they commercial, defence or business aviation. In addition, there has been an increasing focus on the decarbonisation of the industry and zero-emission flight initiatives.
View full Profile