The crash of a Kawasaki Heavy Industries BK117-C1 in the Southern Ocean off New Zealand underlines the challenges of operating with night vision goggles (NVGs) over a flat sea.
The crash occurred on 22 April 2019 when the helicopter (ZK-IMX) was attempting to land in darkness at an overnight camp site on the Auckland Islands, which lie south of New Zealand.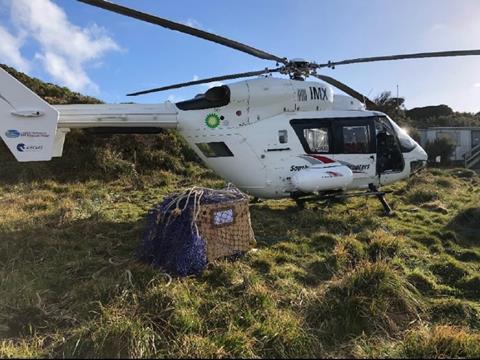 The rotorcraft, operated by Southern Lakes Helicopters, had departed Invercargill in the late afternoon with a pilot, a paramedic in the forward left-hand seat, and a winch operator in the back. The plan called for the crew to land on Enderby Island where they would camp out until daylight. Then they would fly to a fishing ship to heli-winch a sick crew member.
An investigation by New Zealand's Transport Accident Investigation Commission (TAIC) shows that the helicopter crashed off the coast of the island at 19:37 local time while attempting to land at the camp site. All three aboard – who wore immersion suits and had received training about egressing a submerged helicopter — escaped and made it to shore in dead calm water.
The TAIC determined that the helicopter was operating normally, and suggests that the pilot's NVG proficiency played a role.
"The Commission found that the pilot had misinterpreted the image seen through the NVGs as cloud covering the landing area when it was very likely to have been fog near the sea surface and downwind of the shore," says TAIC.
"The planned descent and approach in the clear area was made using visual reference outside and to the global positioning system (GPS) map display."
The TAIC report also notes that the paramedic, also wearing NVGs, had no training applicable to aiding the pilot. Moreover, the crew had planned to arrive at Enderby Island in daylight, but had been delayed by several hours. This meant that the risk profile of the flight had increased.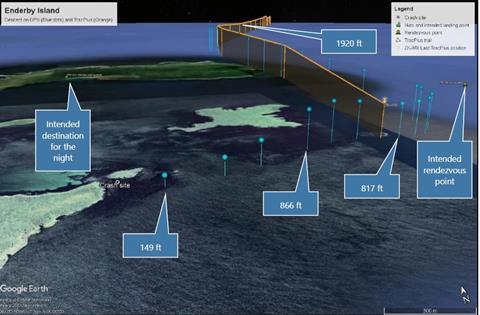 "The Commission found that the operator's exposition for single pilot [Visual Flight Rules] operations into the Southern Ocean was inadequate at the time to manage the risks associated with such operations," adds TAIC.
"The operator has since made significant improvements, including engaging an external auditor and introducing a new standard operating procedure for Sub Antarctic Island flights."
The investigation also revealed regulatory gaps in areas such as helicopter air ambulance operations, night vision imaging systems operations, crew resource management, and the logging of NVG time.