Nine US Army soldiers died after two Sikorsky UH-60 Black Hawk helicopters crashed in Kentucky on 29 March.
The incident occurred during a night training flight with the army's 101st Airborne Division, which specialises in using helicopters to ferry ground troops into combat – a technique known as air assault.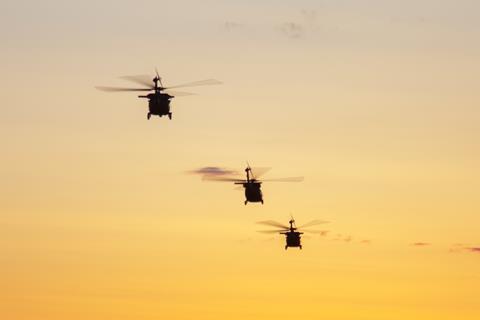 The army has released few details about the incident. However, Brigadier General John Lubas, deputy commander of the 101st Airborne, says the aviators were flying while using night vision goggles, a notoriously challenging task.
"These specific aircraft were medical evacuation aircraft," Lubas says. "However, we believe the incident occurred while they were flying, not doing deliberate medical evacuation drills."
The medical evacuation variant of the Black Hawk is designated as the HH-60M by the army. Each aircraft typically carries two pilots, one crew chief and additional medical personnel.
Of the nine fatalities, Lubas says five were aboard one aircraft and four were on the other. The HH-60Ms were flying together in what the general describes as a "multi-ship formation".
Other army helicopters in the area at the time of the incident responded to the crash, according to Lubas.
The crash occurred in an empty field adjacent to a residential area outside Fort Campbell – the southern Kentucky base where the aircraft were assigned. There were no additional casualties.
An investigation team from the US Army's aviation training headquarters at Fort Rucker in Alabama will attempt to determine the cause of the crash.
Lubas notes the army goes to great lengths to ensure training exercises are conducted safely.
"Especially for aviation training, [we] do very, very detailed planning – very detailed rehearsals," Lubas says. "Safety is a primary focus for us."
A 2020 investigation into aviation safety within the US military identified 6,000 safety incidents between 2013 and 2018, that led to 198 deaths and 157 lost aircraft. The figures exclude combat losses.
In August 2022, the Pentagon created the Joint Safety Council (JSC) – a body established specifically to address defence aviation accidents.
Following the recent Black Hawk crash, Department of Defense press secretary Brigadier General Pat Ryder on 30 March said the services take safety "incredibly seriously", but notes it is impossible to remove all of the risk from military activity.
"Unfortunately, a lot of what we do is inherently dangerous," says Ryder.