UK defence officials insist no decision has been taken on the out-of-service date for any of the rotorcraft covered by its New Medium Helicopter (NMH) programme, despite hints that retirements could begin as early as 2022.
NMH is designed chiefly to replace the Royal Air Force's fleet of 23 Puma HC2 transports, but will also supplant the five British Army-operated Bell 212s stationed in Brunei, a pair of Bell 412s in Cyprus, and six Airbus Helicopters Dauphins used by the Special Air Service.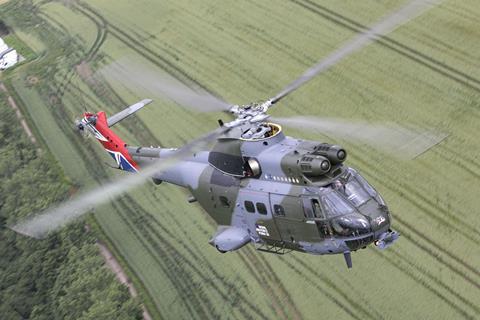 Although the Pumas have an official out-of-service date of 2025, there had been speculation that the retirement would be accelerated.
However, an unverified document circulated on Twitter, which purports to be from the head of the UK's Joint Helicopter Command, suggests that the Puma will instead be retained to cover for the phasing out of the Bell 212s in September 2022, and the 412s in April the following year.
No detail is provided on how many Pumas would be retained under this plan. Should the retirement date of 2025 be maintained, an extension to the current support agreement with Airbus Helicopters, which runs until March 2022, would need to be agreed.
But the Ministry of Defence maintains that no decision has been taken. "The out-of-service date for Puma is under continual review based on operational and non-operational commitments, which includes rotary-wing provision in Cyprus and Brunei.
"We are working with all key stakeholders on this decision and cannot comment further at this time," it says.
The Dauphin fleet is still due to be retired in 2029.
Between 36 and 44 helicopters are to be procured through the NMH programme, which is worth up to £1 billion ($1.3 billion). Deliveries could begin in September 2024.