Northrop Grumman has secured a contract from Korea Aerospace Industries (KAI) to equip the company's KUH-1 Surion helicopter with its Airborne Laser Mine Detection System (ALMDS).
Northrop will participate in the engineering, manufacturing and design phase of the Mine Countermeasures Helicopter (MCH) programme, which is expected to be finished in 2027.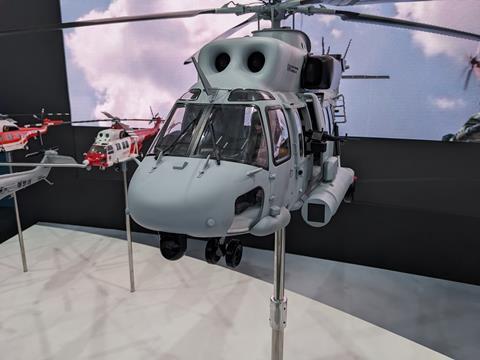 "The mission of ALMDS is to detect, classify and localise floating and near-surface moored mines rapidly," says Chang-heon Han, executive vice-president of KAI's helicopter division.
"KAI is convinced that the ALMDS integration will make a significant improvement to the Republic of Korea's navy mine detection capabilities. The programme will also enhance our strategic partnership with Northrop Grumman in the defence domain."
KAI displayed a model of the MCH on its stand at the ADEX defence show, which is taking place in Seoul this week.
In December 2022 South Korea's Defense Acquisition Program Administration said that it would invest W348 billion ($257 million) to develop a minesweeping version of the Surion.
Over 99% of South Korea's import and export cargo travels by sea, and Seoul deems it vital to keep its sea lines of communications open.
In US Navy (USN) service, the ALMDS is designated AN/AES-1. It is integrated with the Sikorsky MH-60S helicopter.
"The ALMDS is integrated with the MH-60S helicopter to provide rapid, wide-area reconnaissance and assessment of mine threats in littoral zones, confined straits, choke points and amphibious objective areas," says the USN.