Norway is again threatening to cancel its contract with NH Industries (NHI) after further delays to deliveries of NH90 maritime helicopters.
Addressing the country's parliament on 9 February, Norwegian defence minister Odd Roger Enoksen expressed his dissatisfaction with the manufacturer.
"We do not yet have the maritime helicopter capacity we need, and I am not happy with this," he says.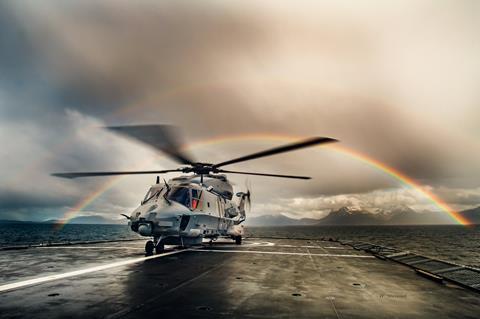 Deliveries of new-build helicopters to Norway have consistently run behind schedule since Oslo signed for 14 NFH-variant NH90s in 2001; the full complement of helicopters was due to have arrived by 2008, but shipments did not begin until 2011.
Back in 2012, then deputy defence minister Roger Ingebrigtsen said Norway was prepared to walk away from the contract if NHI's performance did not improve, with the Sikorsky SH-60 Seahawk reportedly under consideration as an alternative.
But the latest outbreak of hostilities is caused by the length of time taken to upgrade already delivered examples. Of the 13 NH90s received by Norway, six are in an initial operating configuration and were due to be raised to the full operating standard by the end of 2023.
However, Enoksen says the latest forecasts from NHI indicate that the upgrade has been postponed to 2024. "The supplier has not given us reason to have confidence in these plans," he says.
As such, the defence ministry will now consider its options, which include the potential termination of the contract.
"I know that there is no quick and easy solution to this problem, but the goal is to get a justifiable solution for the future," says Enoksen.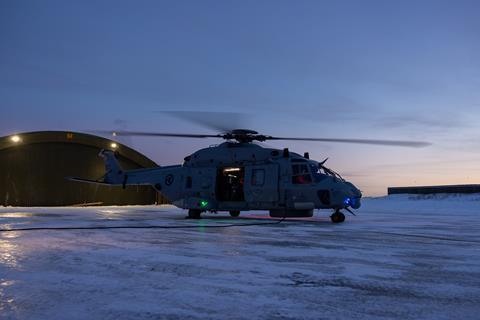 While commending the efforts of the armed forces and Norway's defence materiel agency related to bringing the NH90s into service, he adds: "But they are working uphill with deliveries that are constantly delayed and a supplier that is unable to deliver in accordance with the agreements that have been entered into."
Oslo was already considering the possibility of leasing in commercial helicopters to backfill for the NH90 in support of coastguard operations. That process is still proceeding and a report from the defence materiel agency on the feasibility of such an arrangement was due to be submitted to the defence ministry earlier this week.
Norway's initial plans called for eight helicopters to be employed on coastguard missions, with the remainder operated in an anti-submarine warfare (ASW) and naval support role. However, poor availability rates forced a rethink, with the NH90s instead dedicated to the ASW mission.
NHI is a three-way consortium comprising Airbus Helicopters, Leonardo Helicopters and Fokker.
Late last year NHI president Nathalie Tarnaud Laude promised the manufacturer was taking action on the slow pace of NH90 upgrades.