It is shaping up to be a big year for Bell.
The Fort Worth, Texas-based helicopter maker secured preliminary approval to produce the US Army's new assault helicopter and has plans for the first test flight of a prototype scout design, as part of the same service's Future Vertical Lift (FVL) initiative.
On the commercial side of its business, Bell hopes to secure Federal Aviation Administration approval for its 525 Relentless – a super-medium utility helicopter set to become the first non-military rotorcraft to receive regulatory authorisation for fly-by-wire flight.
However, Bell wants to do even more. The company is actively seeking a partner for development of a new class of aircraft its engineers have been imagining. The concept, which Bell currently calls High Speed Vertical Take-Off and Landing (HSVTOL), would combine different elements of helicopters, tiltrotors and jet aircraft into a single platform.
In a nod to its roots as a designer of propeller- and jet-powered fighters during the Second World War, Bell is also collaborating with Virgin Galactic to design a portion of that company's new Delta class spaceship.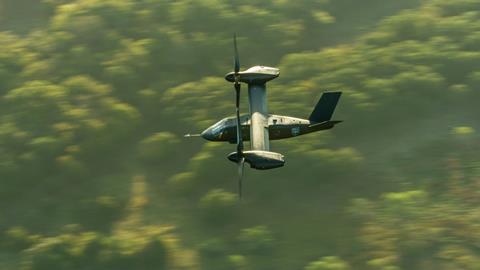 Those efforts are the result of a nearly decade-long plan by chief executive Mitch Snyder to pivot Bell toward the future of aviation. That effort has included investments in digitally focused manufacturing, advanced design and simulation facilities and expanding follow-on support services available to customers.
Snyder, who took the helm in 2015, notes that Bell has also developed at least five new clean-sheet aircraft over the past decade – a statistic he says few competitors can match.
"Very few companies have gone through as many cycles of new aircraft design as we have," Snyder said during a recent tour of Bell's facilities in Fort Worth.
He is quick to point out that includes development of new commercial helicopters like the 525 – a line of business that has largely been abandoned by other major American defence and aerospace manufacturers.
However, military aircraft will remain a pillar of future revenue – with one major US Army contract nearly in hand, another to be settled in 2025 and years of service remaining on existing types like the UH-1Y Venom and AH-1Z Viper.
VERTICAL FUTURE
After a decade of work to design, produce and fly a new prototype aircraft for the US Army's Future Long Range Assault Aircraft (FLRAA) competition to replace the Sikorsky UH-60 Black Hawk, the days are suddenly much quieter for Bell's V-280 Valor team.
The tiltrotor design prevailed in the FLRAA contest against Sikorsky and Boeing's DefiantX – a submission based on Sikorsky's X2 line of compound coaxial experimental aircraft.
"It was over a decade of really hard work," Snyder says, describing the effort at Bell to deliver a FLRAA win.
The deal is worth as much as $80 billion over several decades, according to the army, which ultimately intends to replace its fleet of 2,300 UH-60s with the FLRAA design.
While the service said last December that Valor would be its choice, Sikorsky parent company Lockheed Martin filed an official protest of the decision – resulting in a US Government Accountability Office audit of the contract process that could take up to 100 days.
The protest also triggered an official work stoppage at Bell on all things FLRAA related. However, Scott Donnelly, chief executive of Bell parent Textron, recently expressed confidence the initial decision will ultimately stand.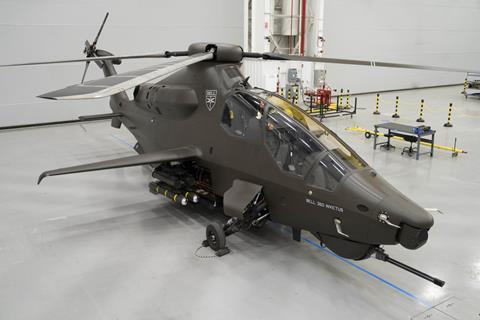 "It's hard for me to understand what flaw there might have been in the process," says Donnelly of the competitive process that led to the FLRAA decision. "We think the army made the right choice."
Army officials have not yet made public the rationale behind their decision.
However, service leaders, including FVL head Major General Walter Rugen, have repeatedly indicated that flight speed and range were likely the two most-important factors in the FLRAA decision.
The initial FLRAA request for information provided to industry by the army established objective requirements of a 2,440nm (4,520km) one-way, un-refuelled flight range and continuous cruise speeds of at least 280kt (518km/h).
Other requirements include an average manufacturing cost not greater than $43 million per aircraft, ability to transport 12 passengers and capacity to carry a 4,540kg (10,000lb) external payload.
In the meantime, Bell remains "spring-loaded" to resume work at the conclusion of the protest, says Keith Flail, the company's executive vice-president overseeing military aircraft programmes.
Flail's division – Bell Advanced Vertical Lift Systems – has plenty of work with which to stay busy outside of FLRAA. The team has nearly completed construction of a competitive prototype for the army's Future Attack Reconnaissance Aircraft (FARA) programme, which is seeking a replacement for the already retired Bell OH-58D Kiowa scout helicopter.
Bell is a finalist for that contract, alongside FLRAA competitor Sikorsky, and Flail says its prototype is 95% complete. The company has put forward a more-traditional single-main and tail rotor design for FARA, which it calls the 360 Invictus.
Bell designed Invictus to be "low risk and low cost", the company's FARA programme director told FlightGlobal in 2022. The design features a tandem and internal storage bay below the main rotor that will house retractable weapons systems.
It also incorporates a pair of stub wings to provide additional lift during flight, which Flail says reduces the demand for lift on the main rotor and allows faster flight speed.
Both the Bell and Sikorsky FARA prototypes are expected to make first flights sometime during the second half of 2023. Per army stipulation, the same engine powers the two aircraft – GE Aerospace's T901-900 Improved Turbine Engine (ITE).
Bell's Invictus design also uses a second, smaller engine to provide supplemental power to meet the army's speed targets for FARA. Flail describes Invictus as a "1.25-engine aircraft", noting the team took on the engineering challenge of integrating the secondary Pratt & Whitney engine as necessary to meet the programme's performance requirements.
Delays in delivering the ITE powerplant to Bell and Sikorsky already forced the army to delay the FARA timeline by at least a full year. Both competitive prototypes have been nearly complete for months while awaiting receipt of the engine from GE.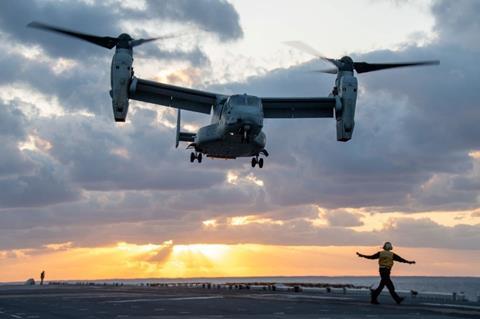 The army has declined to allow the use of an alternative engine for FARA testing, according to Flail, so the entire programme timeline hinges upon GE. A final selection for FARA is expected in 2025.
Flail notes there remains strong support for FARA at the Department of Defense and in Congress. In the meantime, Bell is keeping with new and legacy military programmes.
Service and upgrade programmes are ongoing for the Bell Boeing V-22 Osprey tiltrotor – variants of which fly for the US Navy (USN), US Air Force (USAF) and US Marine Corps (USMC). Snyder says Bell is in the process of installing improved nacelles on the USAF fleet of CV-22s, which he says require a "much lower" level of maintenance per flight hour.
Although Bell completed its final sale of H-1-type helicopters – which include the UH-1Y transport and AH-1Z attack helicopter – to the USMC in 2022, it will continue upgrade and service work on the fleet for years.
Bell is also still pursuing foreign sales for both H-1 types, with the Czech Republic and Bahrain making recent purchases. Nigeria is currently in negotiations with the US government to acquire 12 AH-1Zs.
For customers unable to fund or maintain a fleet of high-end, dedicated military helicopters, Bell is offering a more-general solution. The company has developed a removable kit to "missionise" its popular 407 line of commercial aircraft.
The kit, which includes additional cockpit controls, allows mounting of multiple outboard machine guns and rocket pods to the rear of the 407's cabin. Mike Deslatte, Bell's H-1 programme director, describes the 407 mission kit as providing a "different level of capability that is a little more approachable".
He notes that not every threat environment requires the "exquisite capability" of the AH-1Z or V-280 and says a missionised 407 may be appropriate for some customers, at a fraction of the cost.
A major selling point of the 407 kit is that it is available for direct commercial sales and not subject to the USA's lengthy Foreign Military Sales process. This means a brand new, armed 407 can be delivered to a customer as an aircraft is available from the factory; bypassing the years it can take to secure government approval.
On the opposite end of the simplicity spectrum is Bell's V-247 Vigilant – a smaller, unmanned tiltrotor based on the V-22 that Bell is pitching to the USN. Complete with folding wings, the type can fit in the footprint of a Sikorsky MH-60R Seahawk and operate from the USN's guided missile destroyers – a much smaller environment than the service's gargantuan Nimitz-class aircraft carriers.
STRONG DEMAND
While FLRAA will be Bell's "number one priority" in the coming years, according to executive vice-president for strategic pursuits Jeffrey Schloesser, the company still sees sales of commercial aircraft as an important source of growth.
"We are not becoming a defence company," Schloesser notes.
The company recorded over 200 commercial aircraft sales in 2022, according to Bell Commercial executive vice-president Michael Thacker, including a deal with the South Korean military for 40 Bell 505 trainers.
Snyder says Bell invested heavily to ramp up production on the 505 line, battling through major challenges with the supply chain in recent years.
"We're establishing the 505 as the global choice for training," Snyder says.
Private sales have rebounded after industry-wide declines during the Covid-19 pandemic. Bell says it continues to add new customers and convert existing operators to Bell products.
"The corporate market continues to be healthy," Thacker notes. He cites "significant demand" in sectors including oil and natural gas, aeromedical evacuation, corporate and global MRO services.
Thacker notes that Bell recently delivered the 400th 505 airframe, to a customer in the UK.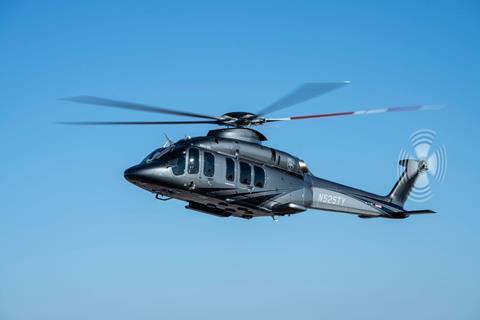 However, the main agenda item for Bell Commercial in 2023 will be certification of the 525 super-medium helicopter. The type represents the first fully fly-by-wire commercial rotorcraft to pursue civil certification, which has created delays in navigating the process with the FAA.
"Our intent is to certify [the 525] this year," says Snyder, adding that the milestone is the company's second priority for 2023, after FLRAA.
Derek Mookhoek, Bell's 525 programme director, says the FAA has indicated that the goal is achievable. Most of the remaining tasks are flight tests that must be conducted by the FAA itself, he adds.
Mookhoek also says the 525's type inspection authorisation (TIA) flights are more than 90% complete, with a small subset of TIA events remaining. These are primarily related to generating and collecting flight data on the fly-by-wire system.
The 525 engineering team is also pursuing full icing certification through a test programme in Marquette, Michigan, in which a Boeing CH-47 Chinook outfitted with a water tank sprays a trailing 525 to force ice build-up.
Bell says it has been increasing its headcount and investing in tooling to support full 525 production for when it eventually secures FAA certification for the type.
"First delivery will be driven by how successful we are in the cockpit with the FAA this year," says Mookhoek, noting that the milestone could happen in 2023 or 2024.
Bell has not yet secured its first 525 customer, but is in discussions with "quite a few", according to Mookhoek, who adds there is currently "a lot of opportunity" in the market.
SOMETHING 'BRAND NEW'
While Bell tiltrotor aircraft are set to dominate rotary aviation in the military space – with four branches of the US military adopting them should the FLRAA decision be upheld – the company has it sights set even higher.
Tiltrotors like the V-22 and V-280 offer substantially expanded range and speed over traditional rotorcraft, but are still nowhere near to matching the speed of fixed-wing jet aircraft in horizontal flight.
Bell wants to change that. The company has been developing its HSVTOL concept, which seeks to combine elements of helicopters, tiltrotors and jets into a single package capable of vertical lift and high-speed horizontal flight.
Jason Hurst, Bell's executive vice-president of engineering, describes the HSVTOL concept as something "brand new" in aviation. If Bell can pull it off, Hurst says it will be a transformational development on par with Northrop Grumman's flying wing design, featured on the company's B-2 Spirit and B-21 Raider stealth bombers.
HSVTOL envisions an aircraft that looks like a tiltrotor while on the ground and in vertical flight mode. However, where current tiltrotors have only vertical and horizontal flight modes, HSVTOL would have a third, jet flight mode.
After reaching sufficient speed, the rotor blades would fold back into a more aerodynamic profile and the aircraft would fly like a fixed-wing jet. The goal of the HSVTOL concept is to deliver an additional 100kt of speed over current tiltrotors.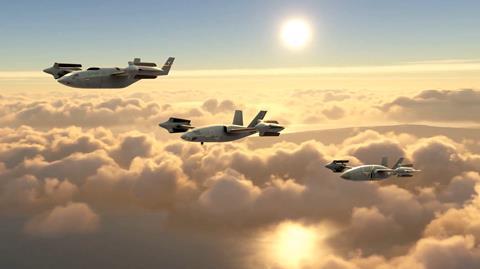 "We're looking for government partners," says Hurst, when asked how Bell plans to take HSVTOL from concept design to flying demonstrator. He suggests the Pentagon's internal technology incubator, the Defense Advanced Research Projects Agency, or the USAF's AFWERX incubator as potential associates.
Hurst notes HSVTOL is more than just an idea. Bell has invested significant resources toward producing an actual design for the aircraft so that it can pitch it as a realistic vehicle.
"We're burning down as much risk as we can without getting into the air," he says of the current approach to the HSVTOL design.
Bell is also partnering with the UK's Virgin Galactic as a contributor to the commercial space firm's new Delta class spaceship, supplying some of the flight control surfaces.
The company is also wading into pilotless cargo delivery with its Autonomous Pod Transport (APT) – a battery-powered large quadcopter capable of reaching 86kt and delivering a 45kg package 19nm. Bell says APT could fill a range of commercial, military or medical roles.
Such efforts are reminiscent of Bell's early existence in the 1940s and 1950s, when the company designed fighter aircraft, broke the sound barrier and was a contributor to NASA's lunar programme.
Snyder believes this approach, which he describes as balancing "significant" investment in new aircraft development with delivering contemporary profits on existing programmes, is already paying dividends for Bell, and will continue doing so for years.
"We found the right balance," he says.