The New South Wales (NSW) Police Force has commissioned a trio of Bell 429 helicopters, which will serve in a number of missions.
The three rotorcraft were acquired under NSW's A$50 million ($37.5 million) Future Light Helicopter Programme, say the NSW police.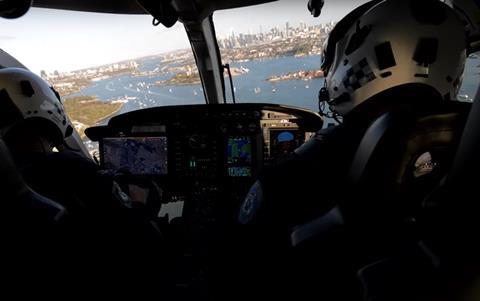 "The Bell 429 helicopters have been specifically designed and fitted with the best technology available to carry out search and rescue operations, conduct aerial patrols and surveillance operations," says police commissioner Mick Fuller.
"Each one has been customised with the most sophisticated equipment, including a FLIR [forward looking infrared] camera system, advanced mapping systems, tactical radio and rescue hoist winch."
The helicopters bring the NSW police aviation fleet to eight assets. The other five assets comprise three Cessna Caravans and two Bell 412s.
The tree helicopters were assembled at Bell's Mirabel, Canada factory in 2020, and were transferred to the NSW police force's airbase at Bankstown earlier this year.
The Bell 429 is at the core of two bids for Canberra's contest to obtain a new special forces helicopter.
Babcock Australia and Hawker Pacific are both pitching the Bell 429 for the requirement, which envisages the acquisition of 20 helicopters. Airbus Helicopters, working with a team of local partners, is pitching the H145M.