Airbus Helicopters has been awarded a development and production contract for the Tiger MkIII upgrade programme, initially covering 42 aircraft for France and 18 for Spain.
Awarded by the OCCAR procurement agency, the contract, which also includes initial in-service support, will see the first prototype of the modernised attack helicotper fly in 2025, ahead of deliveries to France and Spain beginning in 2029 and 2030, respectively.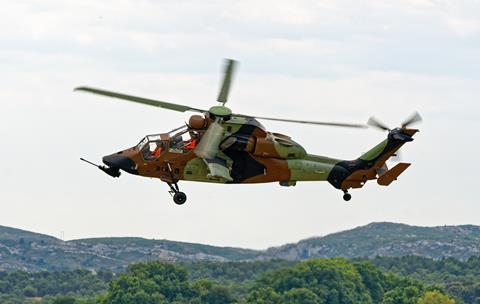 The contract includes an option to add 25 more helicopters to the upgrade programme for Paris, which if exercised would encompass 67 of its 69-strong Tiger fleet.
Germany's Tigers are not covered by the deal, although the contract provides the possibility for Berlin to join the programme at a later date.
Development and upgrade work will be conducted at Airbus Helicopters facilities in Albacete, Spain; Marignane, France; and Donauworth, Germany.
"The Tiger MkIII programme will provide a European answer to the need for a state-of-the-art attack helicopter for the decades to come. With this upgrade, the Tiger will remain an essential and modern asset to its armies and reinforce defence cooperation in Europe," says Bruno Even, Airbus Helicopters chief executive.
Enhancements to be introduced through the MkIII programme include greater connectivity to enable manned-unmanned teaming and real-time data sharing, enhanced targeting systems, and modernised avionics.
The weapon package for France will include the MBDA MAST-F (Future Tactical Air-to-Surface Missile) and Mistral 3 air-to-air missile, while Spain's Tigers will gain 70mm guided rockets and an undisclosed air-to-surface missile.
In addition, Spain's fleet will receive Link 16 data links and satellite communications systems, plus battle management and countermeasures systems provided by national defence champion Indra; ATOS and Thales, respectively, will supply those systems on the French Tiger MkIIIs.