Offshore helicopter operators will be waiting nervously for the outcome of investigations into the crash of a military helicopter off the coast of Greece in which six Canadian personnel were killed.
The Royal Canadian Air Force (RCAF) Sikorsky CH-148 Cyclone anti-submarine warfare helicopter came down in good weather in the Mediterranean Sea on 29 April where it was operating as part of a NATO mission, killing all six on board.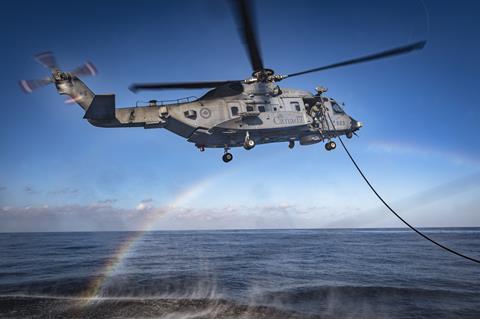 Both the cockpit- and flight-data recorders have been recovered, but no details of the accident have been released. Although the RCAF has "paused" operations with the type, this is a typical response under the circumstances.
However, commercial operators will be watching the situation with trepidation as the CH-148 is a military derivative of Sikorsky's S-92 – a mainstay of the offshore transportation segment.
While there is no suggestion at this stage of a safety issue with the Cyclone, if the accident is traced back to a mechanical failure which requires the S-92 to be grounded for any length of time there are precious few alternatives for long-range crew-change missions.
If that were to persist, then offshore operators would be left scrabbling for capacity, believes Steve Robertson, director of boutique research firm Air & Sea Analytics.
"Is there a like-for-like alternative? No there's not," he says. "The industry would have to find a way of coping somehow, but it would be pretty difficult in places like Norway and the UK which are reliant on this aircraft."
According to Air & Sea's analysis, there were 164 S-92s working in the oil and gas sector at the turn of the year, with over 70 present in the North Sea region alone.
Although super-medium-class types such as the Airbus Helicopters H175 and Leonardo Helicopters AW189 – both are 16-passenger aircraft – have a growing presence in the oil and gas sector, building on the existing fleet of AW139s, there are unlikely to be sufficient aircraft to backfill for an absent S-92, says Robertson.
"There is not enough spare capacity sitting around to take up that slack," he says. "Each company will have their own contingency plans, but there is no 'business as usual' scenario."
And while offshore activity may have dipped on the back of lower oil prices, coronavirus social-distancing rules mean that fewer passengers can be carried on each helicopter, creating a broadly unchanged short-term flight requirement in the North Sea.
But globally, activity levels are down by over 25% year on year, according to Air & Sea data.
Sara Dhariwal, valuations analyst at consultancy Ascend by Cirium, says that the global fleet of offshore-roled helicopters totals around 1,820 aircraft, of which 210 are S-92s. Storage numbers are "climbing on a daily basis" on the back of the oil price crash.
While some of these rotorcraft could be pressed back into service if required, "it would be a challenge to replace the capacity of a fleet of close to 250 heavy helicopters," she says.
Oil and gas helicopter operators have been solely reliant on the S-92 for long-range or 19-passenger missions since the effective retirement of the rival H225 from the majority of offshore missions after a gearbox-related safety nightmare (ironically beginning on 29 April 2016).
There have been recent scares with the heavy-twin, including a tail rotor issue in late 2016, but no serious safety failings since a fatal crash in 2009 off Newfoundland.