Peru is to auction off the three Mil Mi-26T super-heavy helicopters previously operated by its army but which have not flown for decades.
In a 3 August resolution, the Peruvian defence ministry says the helicopters' Motor Sich D-136 engines, auxiliary power units and transmissions are all in a "non-repairable" condition.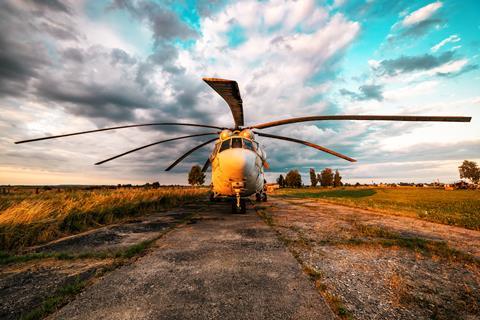 Additionally, the hydraulic, electrical, communication and navigation systems are all unserviceable, says the ministry, with both internal and external deterioration of the airframes having occurred.
"Significant investment" would be required to bring the Mi-26Ts back into service, it says, noting that the cost of repair is "onerous".
Lima acquired the helicopters in 1995 following their sale by their original owner Aeroflot. However, the three airframes – registered as EP-705, -706 and -707 – have flown little since then; the defence ministry notes that they have been inoperable for "12, 17 and 21 years, respectively".
However, the Russian-built helicopters will be offered for sale via public auction; due to their relative inactivity, the ministry believes they still have value as donor aircraft for other Mi-26 operators.