US manufacturer Piasecki Aircraft has won a $37 million contract from the US Air Force's innovation arm to demonstrate a new vertical take-off and landing (VTOL) aircraft and new propulsion technology.
The multi-year funding through the AFWERX programme and Air Force Research Laboratory (AFRL) will see Piasecki showcase in flight its Aerial Reconfigurable Embedded System (ARES) tilt-duct unmanned air vehicle and a ZeroAvia fuel cell propulsion system, the company said on 21 November.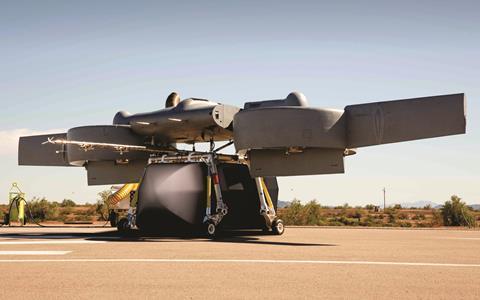 Piasecki has been working on the ARES vehicle for several years. It is designed as a modular system capable of performing a variety of missions including surveillance, communications, command and control, and logistics support.
It has also previously worked with hydrogen-propulsion developer ZeroAvia to integrate a high-temperature fuel cell system onto the airframer's PA-890 electric VTOL compound helicopter.
Part of the AFRL's strategic funding increase programme, the contract award "will rapidly expand our ability to deliver these radically new vehicles to customers and partners across the military and commercial sectors", says chief executive John Piasecki.
The AFWERX contract comes the same month that Piasecki was selected to participate in a separate VTOL development effort being funded by the Pentagon's internal technology incubator – the Defense Advanced Research Projects Agency (DARPA).
That programme, known as Speed and Runway Independent Technologies, seeks to develop a VTOL X-plane capable of reaching speeds equivalent to fixed-wing jets.
Along with Piasecki, Bell, Northrop Grumman and Aurora Flight Sciences were all selected by DARPA to participate in the project.