A Polish order for 22 additional Leonardo Helicopters AW101s has moved a step closer after the country started negotiations with the manufacturer's local subsidiary.
Defence minister Mariusz Blaszczak, writing on social media, says Warsaw has "sent an invitation to negotiate for the delivery of 22 AW101 multirole helicopters".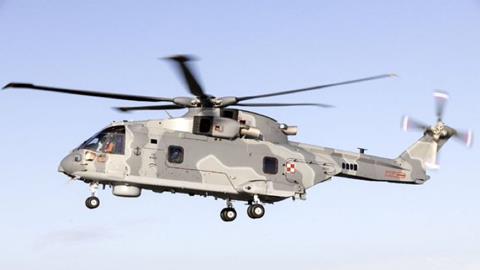 The country's armaments agency identifies Leonardo Helicopters' Polish subsidiary PZL Swidnik as the party it is working with.
AW101s are built at the airframer's Yeovil plant in the UK, although structures are sourced from sites in Poland and Italy.
Warsaw had earlier this year indicated an interest in acquiring more of the heavy rotorcraft in a multirole configuration. It is already buying four anti-submarine warfare-roled AW101s for its navy; the first example from the 2019 contract arrived in Poland earlier this week.
Blaszczak says the new helicopters will replace the Soviet-era types still in its inventory, notably Mil Mi-8/17s.
A deal for a double-digit quantity of AW101s would be a huge boost to the manufacturer's Yeovil site, which has seen a steady dwindling of its backlog in recent years, notably with the end of AW159 Wildcat production.
In addition, the sizeable order will deepen the relationship between Poland and Leonardo, which is already supplying 32 AW149 super-medium-twins. Final assembly of the helicopters will be performed locally by PZL Swidnik.
Poland is in the middle of a wide-ranging recapitalisation of its armed forces with a shopping list that includes Boeing AH-64E Apache and Sikorsky S-70M Black Hawk helicopters, alongside F-35 and F-50 combat aircraft from Lockheed Martin and Korea Aerospace Industries, as well as new tanks and self-propelled artillery.

Dominic Perry is deputy editor of Flight International but also contributes extensively to flightglobal.com. Although specialising in the coverage of the helicopter industry, he has written on most topics in aerospace – be they commercial, defence or business aviation. In addition, there has been an increasing focus on the decarbonisation of the industry and zero-emission flight initiatives.
View full Profile