Poland says it has reached an agreement with the USA to receive eight Boeing AH-64E Apache attack helicopters sooner than previously expected.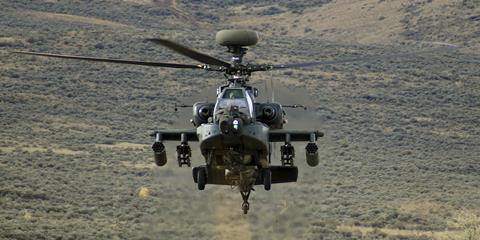 Following an official visit to Washington DC on 5 May, Polish defence minister Mariusz Blaszczak said he had received a commitment from US defence secretary Lloyd Austin that the USA would provide Poland with eight aircraft from the US Army fleet.
"We have received assurances that the US Army will provide us with Apache helicopters," Blaszczak says. "It will give us access to them from its own resources."
Poland in 2022 announced its intent to purchase 96 of the powerful rotorcraft from Boeing under its Kruk programme. Warsaw selected the AH-64 over Bell's AH-1Z Viper attack helicopter. The nearly-100 AH-64s are meant to replace Poland's current fleet of 30 Soviet-era Mil Mi-24/35 helicopters.
Blasczak confirms there has been no change to that plan. However, the eight aircraft coming from the US Army are apparently meant to more rapidly field the capability to NATO member Poland, which is positioned on the military alliance's far eastern flank – sharing a border with both Ukraine and Russian ally Belarus.
"[The Apaches] will arrive in Poland when Polish soldiers – pilots and technicians – have been trained," the defence minister notes.
He adds that training is unlikely to be completed before the end of 2023, but will begin in the coming weeks.
It is unclear if the US Army Apaches will be permanently transferred to Poland, or merely loaned until the country's new aircraft are delivered by Boeing. The company tells FlightGlobal it expects to begin those deliveries between 2026 and 2027.
Once delivered, Poland will become the 18th country to operate the AH-64.
The Pentagon did not immediately respond to a request for specifics on the new Apache arrangement. However, during the 5 May meeting between Austin and Blaszczak, the two men discussed how to strengthen defence cooperation between the NATO allies, according to Pentagon press secretary Brigadier General Pat Ryder.
"The two leaders also coordinated on plans to further enhance Poland's military capabilities and reaffirmed the close US-Poland defence relationship," Ryder noted.
At the same meeting, the two countries also signed what Ryder describes as a "reciprocal defence procurement agreement", which will see additional opportunities for Polish manufacturers to produce components for American weapon systems.
Blaszczak says the agreement will allow to domestic defence industry to build on previous successes. He notes Polish firm PZL Mielec already fabricates fuselage components for the Lockheed Martin F-16V.
Sections including the rear and centre fuselage, cockpit structure and forward equipment bay have been produced in Mielec since 2021, under an agreement with Lockheed. Final assembly of the jets takes place in Greenville, South Carolina.
"I am convinced that Polish industry will take advantage of this opportunity," Błaszczak says.
Lockheed has also partnered with Polish manufacturer Military Aviation Works WZL1 since 2020 to produce components for the Patriot PAC-3 air defence missile and associated launcher. Błaszczak describes Poland as being "highly praised" for the quality of that work.
"So this is a very good signal for the Polish defence industry," the minister notes.
Poland has been vocal in recent months about its desire to host permanent bases for US and NATO forces, as well plans to significantly increase defence spending.
Warsaw plans to reach a level of military expenditure equivalent to 4% of Polish gross domestic product – the highest level in NATO compared to the size of the local economy.
Fighter aircraft are a major focus of the spending campaign – including Korean Aerospace Industries FA-50 light attack jets and Lockheed Martin F-35 advanced stealth fighters, which began production in April.