US helicopter modification specialist Arista Aviation Services has performed the first flight of an upgraded Sikorsky UH-60 Black Hawk that will eventually be delivered to the Portuguese air force.
Lasting for around 30min, the sortie took place from Arista's base at Enterprise Municipal airport in Alabama.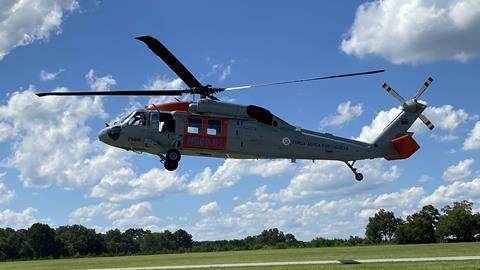 Arista in August 2022 was selected to provide six ex-US Army UH-60s for Portugal in a firefighting configuration.
The Portuguese air force says the acceptance process for the helicopter, tail number 29801, will begin in September.
Currently bearing the US civil registration N669JH, Cirium fleets data records the UH-60 as a 1989-built A-model example divested by the US Army in 2018.
A second helicopter, 29802, is in the final stage of the modification process with its first flight scheduled next month, the service adds.
Deliveries of the six UH-60s are set to conclude in 2025. Arista says the upgraded helicopters will be capable of transporting 12 firefighters and 2,840 litres (750USgal) of water.

Dominic Perry is deputy editor of Flight International but also contributes extensively to flightglobal.com. Although specialising in the coverage of the helicopter industry, he has written on most topics in aerospace – be they commercial, defence or business aviation. In addition, there has been an increasing focus on the decarbonisation of the industry and zero-emission flight initiatives.
View full Profile