It may have taken years for the Airbus Helicopters Tiger to finally hit its stride in Australia, but the capability improvement now achieved may have come too late to save the attack helicopter from replacement by a US-built product.
The airframer cannot say it was not warned of its customer's growing frustration with the platform, nor of an ambition to replace it. In February 2016, Canberra's defence White Paper explicitly stated that the Australian army's 22 Tigers were to be supplanted by a mix of manned and unmanned assets.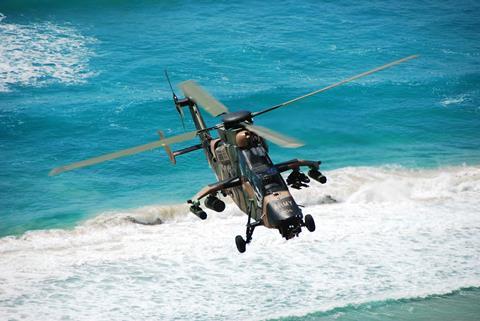 "The Tiger has had a troubled history – essential upgrades are programmed to maintain the capability's effectiveness. Defence will invest in a future armed reconnaissance capability to replace the Tiger, which could include manned or unmanned systems or a combination of both, to be introduced from the mid-2020s," the White Paper said.
Eight months later, in September 2016, the Australian National Audit Office (ANAO) delivered another blow: in a 64-page report on the Tiger it identified 76 "capability deficiencies", of which the Department of Defence (DoD) deemed 60 to be "critical".
"The Tiger helicopter fleet has not yet delivered the original capability expected by the Australian government, and continues to experience higher than expected sustainment costs and lower than expected aircraft availability," said the ANAO.
"On average, only 3.5 aircraft in the operational fleet of 16 helicopters were available on any given day in 2015," it said. This was below targeted readiness of 12 aircraft. One of many issues was the apparent lack of a capability to operate from warships.
There were also issues with sustainment, combat capabilities, and challenges communicating with the broader army network, reducing the Tiger's usefulness as a reconnaissance platform.
The Tiger replacement requirement eventually coalesced into Project Land 4503, which calls for 29 armed reconnaissance helicopters (ARH). A request for information was issued in July 2019, and a formal tender is expected in early 2021. In a July 2020 strategic update to the 2016 White Paper, Canberra indicated that the replacement effort will cost A$3.4-A$5.1 billion ($2.4-$3.7 billion).
In addition to being a hard-hitting battlefield asset, the new ARH has to be comfortable operating aboard a ship, specifically Australia's new amphibious assault ships, HMAS Adelaide and Canberra.
The Land 4503 contest immediately attracted the interest of Boeing with the AH-64E Apache and Bell with the AH-1Z Viper. Boeing even packed a US Army AH-64E onto an Antonov An-124 freighter and flew it to the Avalon Airshow in March 2017.
Amid Canberra's ever-deepening defence ties with Washington, both US firms have talked up commonality with American forces. Boeing points out that several regional allies operate the Apache and that the type has a long future thanks to US Army-driven upgrades. Bell notes that the US Marine Corps, which has forces stationed in Australia, operates the AH-1Z.
In addition to emphasising the raw firepower embodied in both rotorcraft, the two American firms – and especially Bell – have stressed the ability of their helicopters to operate from ships.
The stakes are high for Airbus. Around 90% of its helicopter business in Australia is derived from government work, of which the Tiger is a key element.
Ironically, Canberra's plans to buy 29 new attack helicopters are at full steam as the Tiger, at long last, is performing as advertised.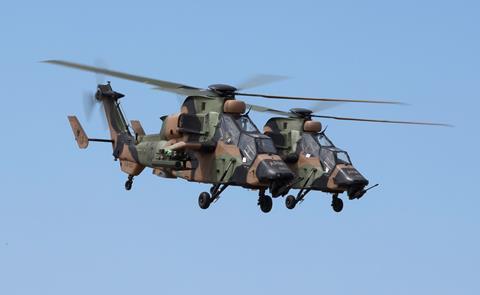 Instead of replacing the Tiger, something explicitly called for in both Canberra's 2016 White Paper and July's strategic update, Airbus Australia Pacific is proposing an upgrade.
"The decision in 2016 was made at a time when Tiger was not performing as well as it is today," says Andrew Mathewson, managing director of Airbus Australia Pacific. "[Now] it's kicking goals and achieving its missions. And the performance is very good. We hope that we've got a bit of a head start because the product is in service."
The airframer estimates that a Tiger upgrade will be A$3 billion cheaper over the next two decades than buying a new fleet. The company bases this calculation on publicly available information about US helicopter sales.
Further, Mathewson says the Tiger has plenty of life left. So far, Australia's airframes have each amassed 2,000 flight hours, but are designed for about 8,000h.
"We know that we need to do the engineering analysis on some dynamic components such that they can be lifed out to 8,000 hours, and then could [serve] well out to 2040," he says.
In addition, the helicopter's electronic warfare and sighting systems would be upgraded, including the addition of a Link 16 datalink, allowing the Tiger to better integrate with Royal Australian Air Force (RAAF) and Royal Australian Navy assets.
In February 2019, Brigadier Jeremy King, director general army aviation systems, said a huge effort had gone into getting both the Tiger and another helicopter with heavy Airbus involvement, the NH Industries NH90 – designated MRH90 in Australia – up to speed.
He said that a more "collaborative" approach with Airbus Helicopters had driven availability and ironed out performance issues with the Tiger.
"It is now a capable platform and one that can be relied upon, but it has been quite a journey – we have had to drive it really hard," said King.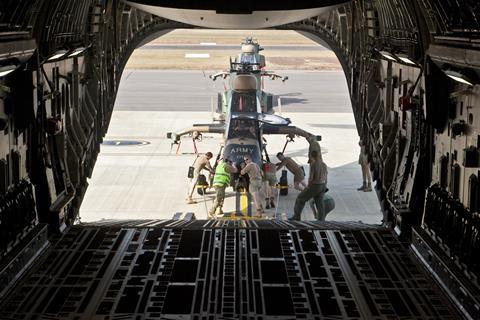 One problem, however, is that the Tiger is no longer in production, with the final serial aircraft having been delivered to France in February this year. Also, the Land 4503 requirement calls for 29 helicopters: seven more than the existing Australian fleet size.
In its initial proposal, Airbus offered to upgrade the 22 Tigers and provide seven armed H145Ms to make up the difference, with the smaller helicopters operating in a support role.
Airbus reasoned that Darwin, where the Tigers are based, is remote from a support perspective. In one case a Tiger conducting live fire exercises at a range was forced to land owing to a technical issue. Since no support helicopter was available, the stricken Tiger sat on the ground for days, because getting to it required a long journey in a truck.
"We offered those seven H145Ms to work in conjunction with the Tigers to offer a mixed fleet, so [the Tigers] can be supported when they're deployed… and also to lift the number up to 29," says Mathewson.
The idea of an H145M top-up, however, failed to pique the interest of Australia's DoD. With that avenue shut off, Airbus will focus instead on somehow obtaining seven additional Tigers.
Mathewson is non-committal from where, exactly, those assets might be obtained, although logic would dictate that the only source of airframes would be from the type's other operators – France, Germany and Spain.
As for shipborne operations, the Tiger proved its sea legs in 2019 in a Southeast Asian cruise aboard HMAS Canberra.
The deployment marked the third time that the combat rotorcraft had operated from the Canberra, and was the first occasion that an operational unit did so. The effort saw 80 army personnel – of whom 12 were flightcrew – plus four Tigers, embarked on the ship.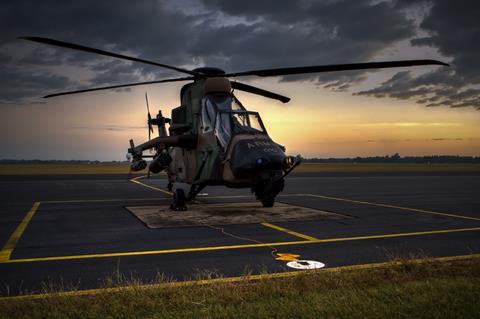 Highlighting the type's flexibility, the four helicopters were flown from Darwin to Kuala Lumpur aboard RAAF Boeing C-17 strategic transports, prior to joining the naval task force.
Lieutenant Colonel Dan Bartle, commanding officer of the army's 1st Aviation Regiment, had warm words for the Tiger during the deployment.
"You won't find too many pilots who dislike the Tiger," he said. "Maintainers love it as well, as do the guys who re-arm and refuel it for us."
In regard to shipboard operations, Mathewson notes that the Tiger has a smaller footprint than the Apache, with a maximum take-off weight (MTOW) of 6t, compared with 10t for the Apache. The AH-1Z, meanwhile, sits between the two, with an 8t MTOW.
Yet, despite the Tiger's strong progress in recent years, memories of the programme's earlier challenges are hard to shake. Further tarnishing the Tiger's image is its association with the MRH90, which is also supported by Airbus and had a similarly troubled service entry.
"That reputational damage just seems to last and last," says Mathewson. "And it's something that we're now actively trying to work at getting the positive stories out. Until quite recently, we've had some army commanders make some very, very positive comments about the Tiger. Now as we lead up to a competition, of course, the army is completely silent, and quite rightly, because they don't want to be in any way [seen] to be influencing future decisions."
Canberra is close to deciding who will receive the Land 4503 request for tender. Some industry observers believe it is leaning towards soliciting just one bid: the AH-64E on offer through the US government's Foreign Military Sales process.
It therefore behoves Airbus to set the record straight about the Tiger and show the DoD that its troubles are part of aviation history.
And for those who have already written off the Airbus rotorcraft, it is worth remembering that tigers are most dangerous when cornered.

Greg Waldron is the Asia Managing Editor of FlightGlobal, responsible for the team's airline, aerospace, and defence coverage across the region. He has worked at the company since 2009. In the airline space, Waldron has conducted dozens of interviews with airline leaders in the Asia-Pacific. He also covers areas such as MRO and safety. On the defence beat, Waldron has written extensively about the rise of Chinese airpower, as well as broader airpower developments around the region, such as indigenous fighter programmes, and regional acquisitions of foreign equipment. In addition, Waldron writes about commercial helicopters in the region and business aviation. Waldron worked has a freelance journalist with his work appearing in several business publications.
View full Profile