UK engine maker Rolls-Royce won a contract with the US Navy (USN) to produce 28 powerplants for the Bell Boeing V-22 Osprey tiltrotor aircraft operated by the USN and US Marine Corps (USMC).
The Department of Defense (DoD) on 28 December said the USN has awarded a contract worth $74.6 million for the delivery of AE 1107C Liberty engines to the firm, which will deliver the powerplants by December 2023.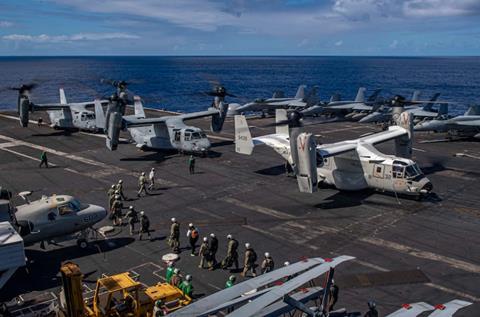 Twenty-four engines are destined for production aircraft, while four will be set aside as spares. Production will take place at the Rolls-Royce turbine engine manufacturing plant in Indianapolis, Indiana.
The V-22 has been in service with the USMC since 2012, where it fills the role of a medium-lift troop carrier and logistics support platform. The service currently operates a fleet of 289 Ospreys under the designation MV-22, according to Cirium data.
The type has a troubled safety record, with numerous fatal accidents since its introduction and multiple crashes in the past year. Analysis of Pentagon aviation safety data by FlightGlobal shows the USMC boasts a significantly higher rate of serious accidents than the other branches of the US military.
The USN in recent years has been developing its own fleet Ospreys, designated the CMV-22, to take over the carrier onboard delivery (COD) mission from the ageing Grumman C-2A Greyhound. The service declared initial operational capability (IOC) on the CMV-22 programme in February 2022.
The USN currently is operating 19 Ospreys, with plans to acquire 42 more, according to fleet data from Cirium.
The CMV-22 variant has internal capacity for 50% more fuel than the USMC's Ospreys, the USN says. The COD version of the aircraft can transport up to 2,722kg (6,000lb) over a 1,150nm (2,130km) range.
Each AE 1107C delivers 6,200shp (4,563kw) of power.
The US Naval Air Systems Command says the USN achieved the additional fuel capacity and flight range by redesigning the forward sponson fuel tanks and adding two wing tanks.
"As our fighter-attack and surveillance aircraft expand in both capability and size to extend the range of the carrier air wing, we must also evolve our support aircraft, in tandem, to supply those platforms," said V-22 joint programme manager USMC Colonel Brian Taylor in February when the USN declared IOC on the COD Osprey fleet.
"The CMV-22B will transport cargo and personnel to outfit the most advanced aircraft carrier strike groups as we continue to meet the needs of our missions worldwide," he added.
The type made its first operational deployment with the USN in 2021.